Download One of Our Free White Papers
to Learn More About Digital Signatures
SIGNiX. Your Independent E-Signature™ Partner.
Known for our technology and distinguished by our collaboration. Partner with SIGNiX today.
Get this white paper to learn:
The benefits of becoming a SIGNiX partner

Why SIGNiX offers a true partnership

What makes SIGNiX a great partner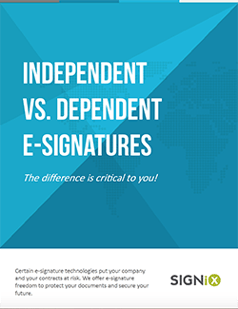 Independent E-Signatures vs. Dependent E-Signatures: The Difference is Critical to You!
Certain e-signature technologies put your company and your contracts at risk. We offer e-signature freedom to protect your documents and secure your future.
Get this white paper to learn:
The difference between independent and dependent e-signatures

The risks of dependent e-signatures

Why the differences are critical to you

---
Will Your E-Signature Technology be Obsolete in 10 Years?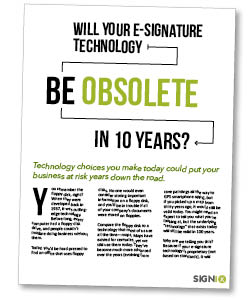 Did you know that some e-signature technologies could be obsolete in as little as 10 years? If you pick the wrong e-signature vendor today, you could be putting your business at risk years into the future.
Get this white paper to learn:
The risks of picking the wrong
e-signature vendor

Why technology standards are important

What to look for in an
e-signature vendor
---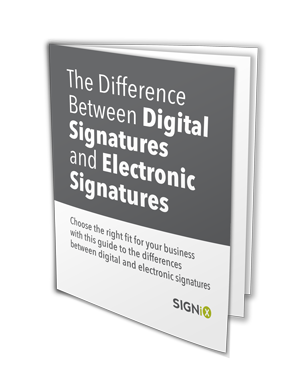 The Difference Between Digital Signatures
and Electronic Signatures
This white paper explains the differences between different types of electronic signatures and helps you decide which type of technology is the best fit for your organization.
When you download this white paper, you will:
Discover which type of signature is the most secure

Find out which signature solution fits your business' needs best
---
_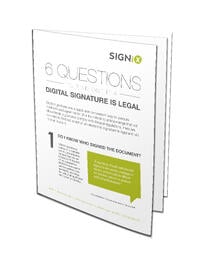 Six Questions to Find Out if a Digital Signature is Legal
Digital signatures are a quick and convenient way to execute contracts and agreements. But not all electronic signatures comply with federal regulations. In our white paper you will learn:
How to find out if a digital signature is legal

The five laws and regulations all digital signature vendors should follow
---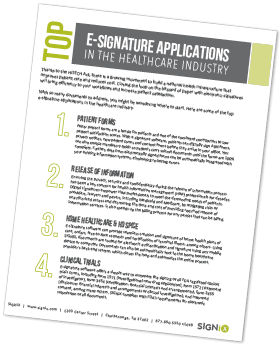 Top E-Signature Applications in the Healthcare Industry
Thanks to the HITECH Act, there's a growing movement to build a national health infrastructure. E-signatures can help close the loop for paper processes to help you become more efficient and boost patient satisfaction.
Download this white paper to learn:
The top e-signature applications in the healthcare industry
What type of e-signatures are approved by HIPAA, the FDA and AHIMA
How e-signature technology benefits the healthcare industry