Secure digital signature solutions for law firms
Many law firms and legal departments find themselves burdened by high volumes of agreements and an antiquated process for signing and notarizing. SIGNiX makes things easy by providing a secure and intuitive means for you to have documents signed or notarized with one of our digital signature products.
Reduce turnaround time

Simplify your agreement process and reduce the amount of time it takes to sign and notarize documents across your entire organization.
Reduce risk and maximize visibility

With TotalAudit™, you'll have access to the entire audit trail, giving you increased visibility into your agreement process compared to traditional, paper-based ways to sign.
Improved security

Our digital signatures are tamper-evident and all of the legal evidence is embedded on the document in question, giving you complete ownership over what you sign.
Secure
With handwritten signatures, you can't tell if the signature was made by the actual signer or someone else. You can't tell if other pages in the document haven't been changed. Digital signatures provide you with all of this information.
Convenient
Digital signatures allow your customers to sign applications and forms wherever they are, whenever they receive the link. Customers on vacation or away from their desks can still do business with you.
Fast
Instead of waiting days or weeks for customers to sign critical documents, you will see turnaround times of minutes or hours. This can have a huge impact on your ability to make a higher profit with our solution.
Applications
SIGNiX's remote online notary and standard digital signature solutions are perfect tools for law firms or legal departments looking to improve their processes. We make it easy to prepare and execute on common documents like nondisclosure and partnership agreements.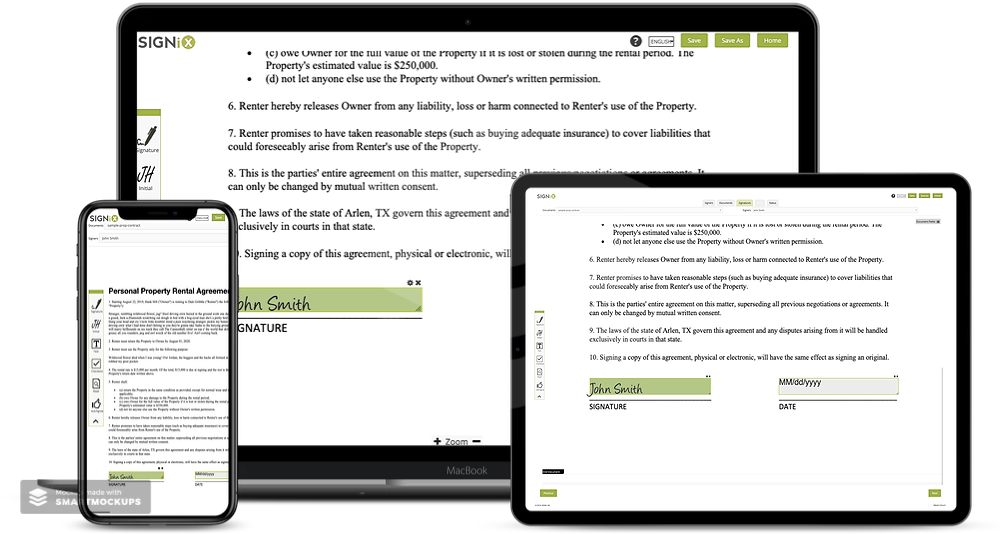 Not only does SIGNiX's technology act as a virtual assistant, but our advisors will get paid quicker. It will help them expedite processing time, eliminate errors and streamline their businesses. Regina Rudnick, Senior Vice President of The Legend Group