Zero training required
With handwritten signatures, you can't tell if the signature was made by the actual signer or someone else. You can't tell if other pages in the document haven't been changed. Digital signatures provide you with all of this information.
Built for software partners
Digital signatures allow your customers to sign applications and forms wherever they are, whenever they receive the link. Customers on vacation or away from their desks can still do business with you.
Customer preference options
Instead of waiting days or weeks for customers to sign critical documents, you will see turnaround times of minutes or hours. This can have a huge impact on your ability to make a higher profit with our solution.
Custom branding options

You can customize the look and feel of the signing experience to match your company's brand standards, elevating your customer experience. We are the only vendor to offer true white labeled digital signature products. Learn more here.
Fully integrated
Integrate digital signatures into your existing business applications using our web services API. We offer developer resources including complete documentation, guidance and use cases to help you get started.
Flex API
A robust set of additional features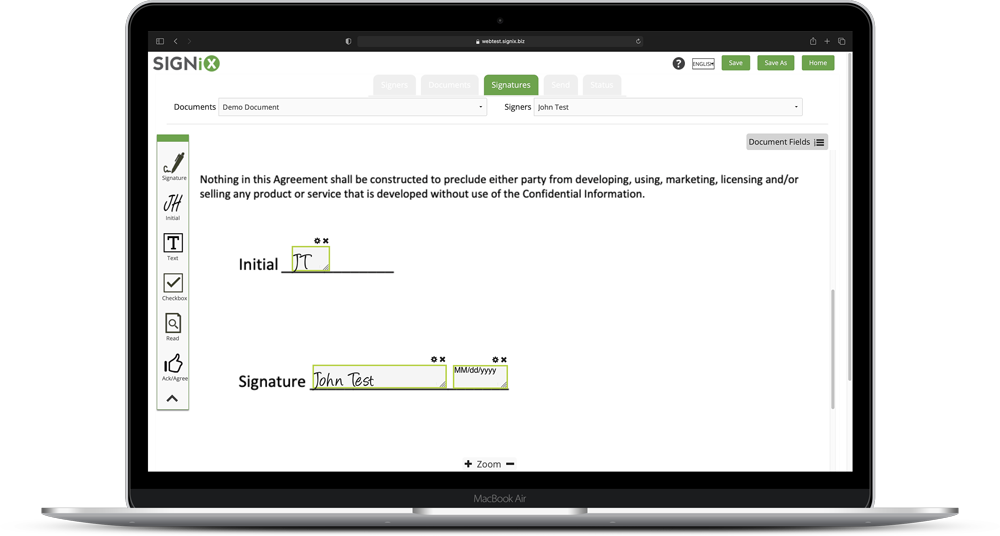 Superior customization
Integration gives you complete control of design, email content, workflows and other behaviors.
Advanced automation
Because every aspect of a SIGNiX transaction can be controlled through integration, users are freed from having to drag-and-drop every field onto a document.
Outstanding user experience
SIGNiX combines high-end security with an elegant signing experience, focused on plain language to meet the needs of a diversity of signers.
White-labeling
The SIGNiX API not only allows for customized signing workflows, but also offers a wide scale of custom branding.