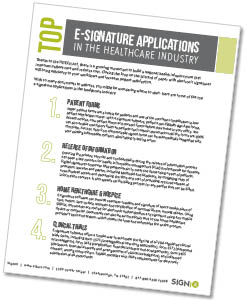 Download Our Free White Paper to Learn
About Top Uses for E-Signatures in Healthcare
Thanks to the HITECH Act, there's a growing movement to build a national health infrastructure. E-signatures can help close the loop for paper processes to help you become more efficient and boost patient satisfaction.
Download this white paper to learn:
The top e-signature applications in the healthcare industry
What type of e-signatures are approved by HIPAA, the FDA and AHIMA
How e-signature technology benefits the healthcare industry
Want to claim your free digital copy of this white paper? Fill out the form to find out more about e-signatures for the healthcare industry.
Download Our White Paper to Learn More