SIGNiX System Requirements
Operating System
Windows 7 and above
macOS X High Sierra and above (supporting Safari as below)
iOS - latest version and two prior
Android - latest version and two prior
Web Browser
Microsoft Edge
Google Chrome, the latest version, and two prior. See below on opening PDFs in Chrome
Mozilla Firefox, Extended Support Release. See below on opening PDFs in Firefox
Safari, version 11 or higher
Microsoft Internet Explorer, version 11.0*
Cookies & JavaScript enabled
Note that other browser configurations may work, but have not been specifically tested nor approved for use.



*Microsoft announced the end of support for Microsoft 365 applications and services on IE11 on August 17, 2021. SIGNiX is intending to retire support for this older browser in 2022 due to the browser's inherent limitations, security issues, and the fact that SIGNiX cannot support newer capabilities on that platform. Certain functions may no longer work at this time, and SIGNiX strongly recommends from a security and productivity perspective to migrate to another browser platform listed for the best experience.
PDF Viewer
For the best experience viewing and printing digitally signed, electronic documents, you should use Adobe Acrobat or Adobe Reader version 9.1 or higher.
Note that browser-dependent PDF viewers for Firefox and Chrome, as well as Preview on OS X and iOS, may display the signature but will not display the tamper-evident seal. Be sure to view the documents in a compliant PDF viewer such as Reader, Acrobat, Nitro Reader, or Fox-It Reader.
Email/Internet Access
An email address and access to the internet are required to operate the SIGNiX platform. Broadband is recommended.
Webcam/Audio
To perform Remote Online Notarizations the use of webcams and audio recordings are required.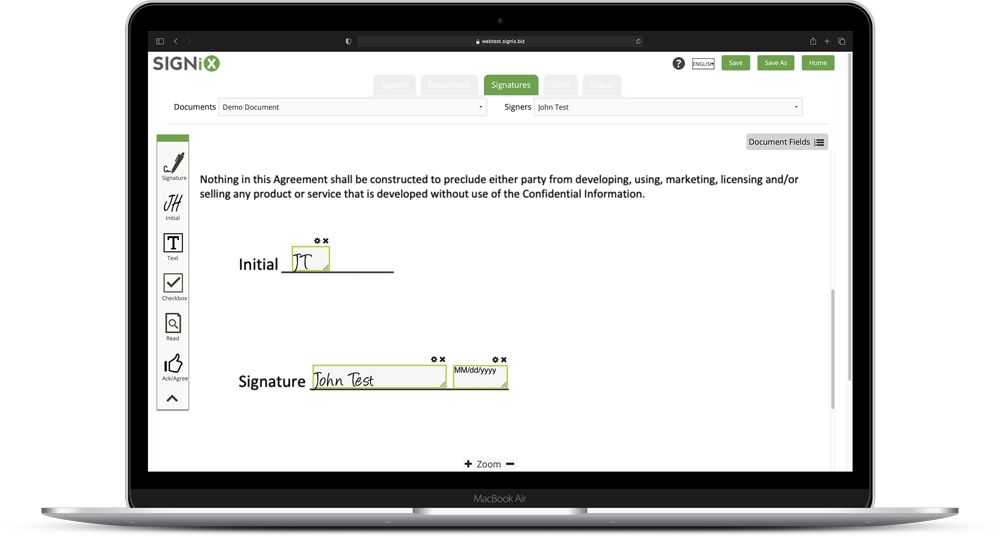 Request a sample document to try signing with SIGNiX
Want to see how easy it is to sign with SIGNiX? Now you can sign a sample document on the SIGNiX cloud with no download or installation required.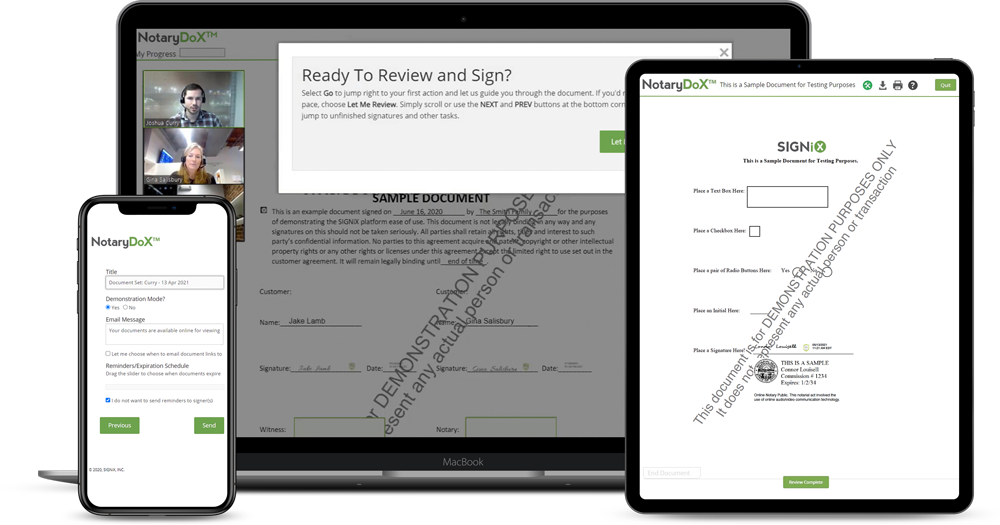 Discover the freedom of RON
More than one billion notary transactions occur in the United States every year. These transactions require paper documents, pen-and-ink signatures, and rubber stamp notary seals. Most importantly, every one of these transactions requires the signer to appear physically in person before the notary, resulting in added costs, delays, and inconvenience. There's a better way. SIGNiX's eNotaryDoX provides a secure remote electronic notarization service.