Secure
With handwritten signatures, you can't tell if the signature was made by the actual signer or someone else. You can't tell if other pages in the document haven't been changed. Digital signatures provide you with all of this information.
Convenient
Digital signatures allow your customers to sign applications and forms wherever they are, whenever they receive the link. Customers on vacation or away from their desks can still do business with you.
Fast
Instead of waiting days or weeks for customers to sign critical documents, you will see turnaround times of minutes or hours. This can have a huge impact on your ability to make a higher profit with our solution.
Our solution was built for notaries
More than one billion notary transactions occur in the United States every year. These transactions require paper documents, pen-and-ink signatures and rubber stamp notary seals. Most importantly, every one of these transactions requires the signer to appear physically in person before the notary, resulting in added costs, delays and inconvenience. There's a better way! SIGNiX's eNotaryDoX provides a secure remote electronic notarization service.

We convert the traditional process of notarization to a completely electronic process using our patented digital signature technology. This technology transforms the in-person notary process to facilitate remote notarization with the help of video conferencing.

eNotaryDoX not only uses standards-based digital signatures that protect the document from tampering, it also offers TotalAudit™, a highly detailed record of the signature and notary process itself. In addition, SIGNiX enables strong, multi-factor authentication options like knowledge-based authentication to positively verify the identity of the signers.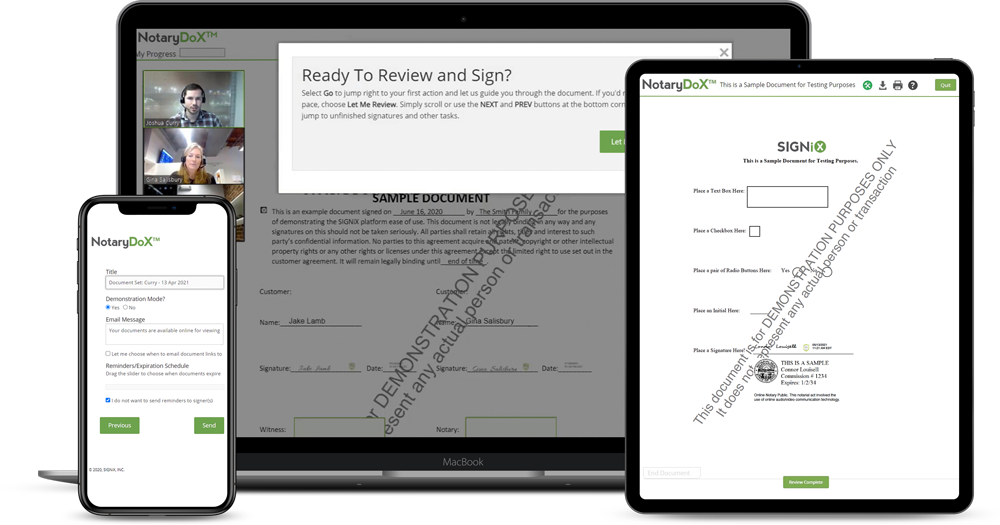 Everything you need

Identity authentication, digital signatures, video recording, unlimited copies of notarized documents, and a secure e-journal. eNotaryDoX provides everything you need to securely e-notarize documents.
Anytime, anywhere notarization

Our remote online notarization solution is cloud-based, so notaries don't need any special hardware, and parties to notarizations can participate anytime, anywhere, from any device with a web browser.
Superior privacy and security

eNotaryDoX utilizes the SIGNiX digital signature platform, meaning that every signature- not just the final document- is cryptographically sealed with the legal evidence embedded in the notarized document.
Making our members happy is critical. This technology will make it so much easier for them to do business with us. What once took days or weeks can be completed in minutes from any computer or mobile device with an Internet connection. Nancy Croix-Stroud, CEO of First Class American Credit Union