Welcome to SIGNiX's Fall 2013 Product Update

SIGNiX has announced the fall release of its industry-leading digital signature software, which features document delegation, push notifications, highly sophisticated integration options and enhanced electronic notary features.
"The new release makes it easier than ever for businesses to get documents signed online," said John Harris, director of product development. "Customers that use SIGNiX's signature software can speed up the pace of business while also providing a great experience for their customers."
SIGNiX's digital signature products make it easy for businesses to get documents signed online while maintaining regulatory compliance and necessary legal evidence.
The latest SIGNiX release is now available for all SIGNiX customers. The release includes:
Signature Engine™ Enhancements
Delegation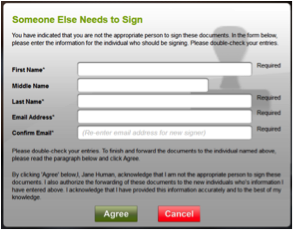 Submitters can now provide specific parties in a transaction the ability to delegate (forward) the signature step to a new party. All delegation events are carefully recorded and audited in the transactional audit trail.
Controlling delegation occurs via Web Services API or the Document Wizard.
If a party is allowed to delegate, the party will see an extra link in the initial notification email which can bring the party directly to a delegation screen.
Parties can also quit the digital signature process and choose 'Someone else needs to sign' from a set of available exit options.
NOTE: The delegation feature will be turned off by default for all clients to facilitate training and understanding of workflows. If your organization would like to take advantage of this new delegation feature, please contact your SIGNiX representative.

Seamless Signatures™
SIGNiX now offers significantly deeper integration and customization than ever before, allowing clients to embed and control aspects of the SIGNiX document preparation, wizard and transaction control user interfaces directly. In other words, clients will be able to create their own document preparation and transaction status screens where the end user has no visible indication they are transitioning between the client's application and SIGNiX.
Allows control of the MyDoX interface (the tabs in the document preparation Wizard) securely from the client application (where SIGNiX would be inside an iFrame) providing for a more seamless user experience.
Allows finer grain control of personalization & appearance (SIGNiX CustomBrand™)
Allows programmatic editing of in-flight transactions (adding parties and documents to an existing transaction from a client's application, rather than through the UI).
Allows fine grained investigation of transaction status (clients can call a function to return transaction status down to signer/document/task level).
For more information on this new feature, please stay tuned to signix.com/blog or contact your SIGNiX representative.

Covering Signatures
SIGNiX can now offer bulk, invisible certifying digital signatures via Web Services API on submitted PDF documents to provide tamper-evidence and document integrity controls independent of signer identity.

Push notifications
SIGNiX now supports push notification events via Web Services to proactively notify integrated clients that a transaction is complete, eliminating the need for server-to-server polling.

Document Wizard / Document Center / Preparation Experience Enhancements
Preview Signature
By default, when a signature field is dragged into a document, the field will show what a final signature would look like for a given party. This simulation will allow users to better understand the implication of different sizes of signature fields on a document. To turn off this preview for a specific field, simply click the 'eye' icon.*


Create New Transaction Button
This function is now available from every view within the Document Center, as opposed to the 'Transaction Templates' screen only.


Quicker Method to Add Parties and Documents
If you haven't yet added parties or documents within a transaction yet, dialogs will now automatically pop up, eliminating the need to click the Add Party or Add Document button. Additional button clicks have also been eliminated from the Add Document process, meaning users can immediately add a document from their file system after selecting Add Document.


Added Client Preference for Automatically Adding Date on Signature Placement
Back by popular demand! Date fields are now automatically added alongside signatures when dragged-and-dropped onto a document in the document Wizard. Dates can be easily deleted if necessary by clicking on the X above the date or the calendar icon above the signature.

Other Updates
CC / Distribution List File Attachments. Files are now sent as separate PDF file attachments to the email as opposed to a ZIP file to improve experience on mobile devices.
Draw Your Signature. Pen width increased to aid visibility of signature in smaller fields.
Updated Please Wait Graphic. A nicer looking waiting graphic has been added.
Updated Logos. New SIGNiX logos throughout…enjoy!
Additional eNotary features added.
Added Email to displayed fields in Add Party and Transaction Status.
Implemented identity re-use. Signing PINs can now be re-used by all signing parties, regardless of authentication, eliminating the need to re-create PINs for multiple transactions.

New webpage created to help users understand SIGNiX-signed documents. Visit www.signix.com/viewing for more information.
Implemented updated version of PDF rendering engine.
Improved stability and scalability.

Bug fixes from previous versions
Various non-essential user interface elements fixed or improved.
Numerous small bugs and errors resolved.

Known Issues
Some less-used UI elements, dialogs and buttons may appear as they did in an older version.
Minor interface issues (tabbing, selections) with users running Internet Explorer 7 and 8 under certain conditions.
Some minor translation issues still present with French and Spanish.
*The new Preview Signature function is a simulation of font placement to assist users in placement and sizing of signature fields. It uses one of the standard fonts. If a user uses a different font or chooses to draw their signature, it may affect the ultimate placement of the signature.
Note that screenshots in this release note are taken from the beta version of the release and thus may be different in the production release.