Digital Signature Fact Sheets & Checklists
Discover why SIGNiX is The E-Signature for Credit Unions
Learn how to boost lending, member satisfaction and security by switching to cost-effective and easy-to-use e-signatures.
Download this free fact sheet to learn:

How e-signatures can help boost lending
How to boost member satisfaction and increase security
Why SIGNiX is The E-Signature for Credit Unions
The benefits of switch to digital in your credit union
---
Learn What Makes an Electronic Signature SEC & FINRA Compliant
The securities industry has specific guidelines for electronic signatures to be
considered compliant, and not all electronic signature vendors
comply with the regulations.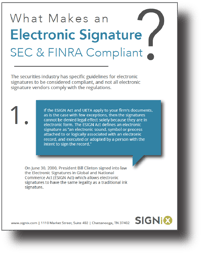 Download this free fact sheet to learn:

What makes an e-signature SEC & FINRA compliant
How to comply with SEC and FINRA e-signature regulations
How to protect your firm from costly fines
---

Learn Why SIGNiX is The E-Signature for Healthcare
E-signatures allow healthcare transactions to be paperless, which means they are highly efficient and nearly instantaneous. By signing on the digital line:
Doctors have more time for direct patient care

Operational costs decrease by thousands of dollars
Download this free fact sheet to learn:

Specific ways the healthcare industry successfully uses e-signature
Who in the healthcare industry e-signature benefits
---

Discover the Top 4 Benefits of eNotaryDoX™
Remote e-signature and e-notarization can help you take a big step toward going paperless, and the benefits go way beyond just "going green." With eNotaryDoX™, documents can be signed and notarized in person or through a secure video conference. Download our free fact sheet to learn:
The top 4 benefits of paperless, remote notarization
How SIGNiX can help boost client satisfaction
---

Learn Why SIGNiX is The E-Signature for Wealth Management
Wealth Management is a highly regulated industry and it is critical that SIGNiX is the digital signature choice for broker-dealers, advisors and their clients. Not all e-signatures are created equal and you should know the difference. Download our free fact sheet to learn:
Why SIGNiX is The E-Signature for Wealth Management
How SIGNiX can help facilitate adoption and boost client satisfaction
---

How to Get Documents Signed Online with MyDoX
Digital signatures can save your business time and money, but how does it work? With SIGNiX, the process is simple. Download our free fact sheet to learn:
How your customers can sign documents online
The benefits of digital signatures
Download this fact sheet to start saving time and money today.
---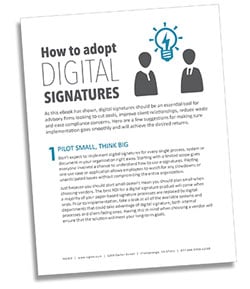 How to Adopt Digital Signatures
Ready to start using digital signatures? Download this handy fact sheet to learn some best practices for adopting digital signatures.
When you download this fact sheet, you'll learn:
How to pilot your digital signature program
The importance of participation across departments
How to balance security and convenience
---
Printable Vendor Checklist
Picking an electronic signature vendor is an important decision. It can be confusing to find out if a vendor meets your needs, but never fear. We've come up with a handy checklist of eight things you should look for in a digital signature vendor.
Want a cheat sheet? Download our printable vendor checklist to make sure you choose wisely.
---
Download Our Fact Sheet to Find Out the Difference Between SIGNiX and Other E-Signature Vendors
If you're interested in getting documents signed online, it's easy to get confused by all of your options. To help clear things up, here's a quick guide to the differences between SIGNiX's digital signature technology and other e-signature vendors.
In this fact sheet you will learn:
The differences between SIGNiX and other e-signature vendors
Which e-signature vendor offers the most security features
---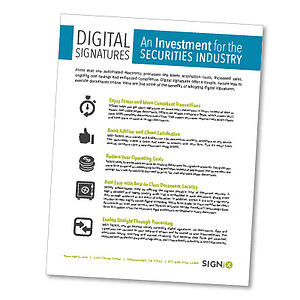 Digital Signatures: An Investment for the Securities Industry
Digital signatures offer a simple, secure way to execute documents online. For brokerage firms, this technology can add security and increase efficiency. Download our one-page fact sheet to learn:
The cost savings of opening an account online
How digital signatures can increase your firm's revenue
Ways electronic signatures can reduce your firm's liability
---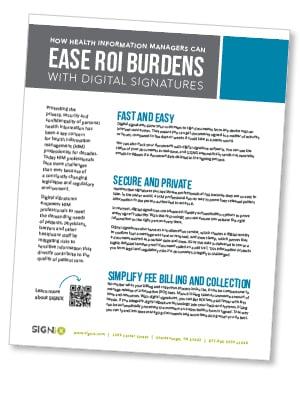 How Health Information Managers Can Ease Request for Information Burdens with Digital Signatures
Protecting the privacy, security and confidentiality during the release of information process has been a key concern for health information management (HIM) professionals for decades.
Download our fact sheet to learn:
How digital signatures can ease regulatory burdens
The security benefits of digital signature technology
How this technology can streamline fee billing and collection