Leading digital signature company offers free 48-page eBook on the security and legal concerns every business should consider before adopting e-signatures.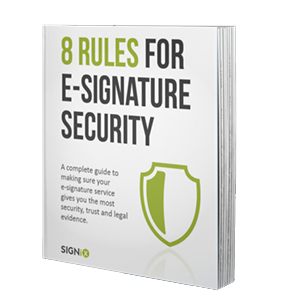 CHATTANOOGA, Tenn. — March 18, 2014 — SIGNiX, the leading provider of secure digital signatures, has released an eBook titled "8 Rules for E-Signature Security" to give businesses thinking about implementing electronic signatures the information they need regarding e-signature security and legality.
"Signatures are the foundation of each and every business out there, but too many businesses seem to forget this critical fact when choosing an e-signature vendor," said John Harris, SIGNiX's director of product management and author of the eBook. "Businesses need to be asking the right questions about whether their vendor's e-signatures will offer the right assurance and evidence to stand the test of time. That's what this eBook is all about."
"8 Rules for E-Signature Security" provides context and real-world examples about the different security features offered by e-signature vendors, and lists eight simple rules to make sure any given e-signature technology can be trusted in the long term.
Those who download this eBook will learn:
The eight e-signature security rules you should follow
The fundamental differences between a digital signature and an electronic signature
What makes an electronic signature legal
How digital signatures can protect documents against fraud
What security features you should look for in a vendor
SIGNiX's digital signature products make it easy for businesses of any size to get documents signed online. The technology replaces the time-consuming process of sending, receiving, fact-checking and filing paper documents. Instead, employees can prepare documents in minutes with the assurance that every finished document will come back without any missing signatures.
To download the eBook, go to http://www.signix.com/esignature-security-ebook
About SIGNiX
SIGNiX, the Global Digital Signature AuthorityTM, makes signing documents online safe and secure. SIGNiX offers the only independently verifiable cloud-based digital signature solution, which combines convenience with best-in-class security. SIGNiX's products help the world's leading companies become more efficient, decrease risk and boost profits.