SIGNiX to offer SAFE-BioPharma compliant solution for securely signing important documents online with trusted digital signatures.
CHATTANOOGA, Tenn.—March 26, 2014—SIGNiX, the healthcare industry's leading digital signature vendor, announced today it will partner with SAFE-BioPharma Association to provide a self-contained digital signature service compliant with the global SAFE-BioPharma signature standard. The service will allow healthcare and other regulated organizations to quickly and easily start a complete cloud-based digital signature product. SAFE-BioPharma is the non-profit industry coalition responsible for the ongoing development and implementation of the global SAFE-BioPharma® digital identity and signature standard.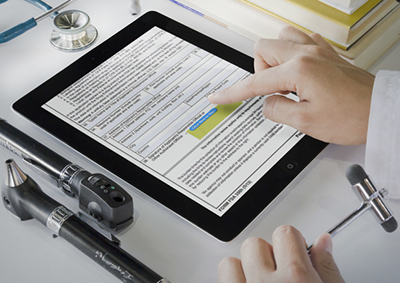 In the past, healthcare companies had to piece together a document workflow product and a digital certificate product to create a process that complied with the SAFE-BioPharma standard. Using SIGNiX's advanced web services API, healthcare companies will be able to easily integrate the digital signature product into their existing systems of record.
"We are partnering with SIGNiX, which offers a highly secure and compliant digital signature service specifically for the healthcare industry," said Mollie Shields-Uehling, President and CEO, SAFE-BioPharma Association.
The SAFE-BioPharma standard supports highly secure digital signatures. Digital signatures differ from conventional e-signatures in that they are uniquely linked to and are capable of identifying the signatory. They are created using data that the signatory can use under his/her sole control with a high level of confidence, and they are linked to the signed document in such a way that subsequent change in the document is detectable.
Importantly, digital signatures compliant with the SAFE-BioPharma standard meet these criteria and are legally binding. They are used on electronic documents throughout the biopharmaceutical and healthcare industries, including, among others, regulatory submissions, clinical trial documents, laboratory notebooks and contracts. The U.S. Drug Enforcement Agency requires digital signatures on ePrescriptions for controlled substances, and the European Medicines Agency requires them on certain submissions and uses them to sign outgoing documents requiring a legally binding signature.
The SIGNiX digital signature service offers superior security and legal evidence, with features including:
The use of secure digital signatures for all signatures and initials
Signatures that are valid for the life of the document
Supporting legal evidence is built into the document
Secure identity authentication for each signer
Technology based on global standards that are legally enforceable around the world
Compliance with HIPAA and 21 CFR Part 11
Meets US Department of Commerce and EU SAFE Harbor requirements for protection of personal data
"Forrester says that the right stress test is to assume your e-signature vendor disappears and see what evidence you have to take to court. Other e-signature vendors own the digital evidence. If they disappeared, so would the proof the signature happened," said Jay Jumper, president and CEO of SIGNiX. "With our technology, all the needed evidence is contained within the document. That's a really attractive feature in the healthcare industry, which recognizes the risk of relying on a vendor decades in the future to prove a signature happened."
About SIGNiX 

SIGNiX, the most trusted name in digital signatures, makes signing documents online safe and secure. SIGNiX offers the only independently verifiable cloud-based digital signature solution, which combines convenience with best-in-class security. SIGNiX's products help the world's leading companies become more efficient, decrease risk and boost profits. For more information, visit http://www.signix.com.
About SAFE-BioPharma
The global SAFE-BioPharma digital identity and digital signature standard is used throughout the biopharmaceutical and healthcare communities to meet specific security and confidentiality needs. It was created with participation from the US Food and Drug Administration and the European Medicines Agency. The standard and its ongoing development is managed by SAFE-BioPharma Association, a non-profit supported by its members. For more information visit http://www.safe-biopharma.org
SAFE-BioPharma® is a trademark of SAFE-BioPharma Association. Any use of this trademark requires approval from SAFE-BioPharma Association.