Tool helps companies calculate the return on investment gained with a move to a paperless office using e-signature software.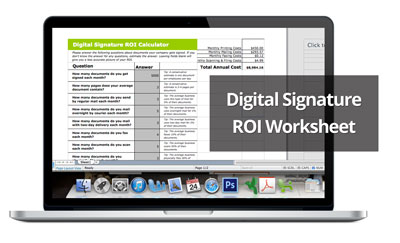 CHATTANOOGA, Tenn.—SIGNiX, the leading provider of cloud-based digital signature software, today announced it is releasing a new worksheet to help companies calculate how much they could save by switching from legacy paper processes to e-signature technology. The worksheet is available to download at http://www.signix.com/roi-worksheet.
"A lot of companies are surprised at how much money they're wasting by using ink and paper signatures," said John Harris, director of product management at SIGNiX. "Each business's savings are different, so we've created a worksheet to help anyone estimate what they're spending on getting documents signed the old fashioned way."
By asking simple questions like, "How many documents do you fax each month?" the spreadsheet uses the answers, combined with industry data, to calculate the costs of:
Printing
Mailing
Faxing
Scanning
Filing
Earlier this year, SIGNiX announced that one of their clients, a single office for an independent broker-dealer, expects to see a savings of $18,000 per year by simply adopting SIGNiX's e-signature software.
"On top of the more obvious fixed costs that the ROI worksheet calculates, businesses also save money by making their processes more efficient and eliminating the less obvious, but more costly drains on personnel time and resources," Harris said. "In fact, an independent research report found that 81% of digital signature customers saw a payback within 12 months, and 25% saw ROI in three months or less."
SIGNiX's advanced security features further add to the value of the technology. In the paper world, businesses secure their documents by putting them in a locked file cabinet or locked room. But even with those precautions, a fraudster could break in and tamper with documents. With SIGNiX's digital signature software, each signature is protected with a tamper-evident seal, which is broken and easily visible if any part of the document is changed after signing. Signed documents also come with a highly detailed log of events from the signing process.
About SIGNiX
SIGNiX, the Global Digital Signature AuthorityTM, makes signing documents online safe and secure. SIGNiX offers the only independently verifiable cloud-based digital signature solution, which combines convenience with best-in-class security. SIGNiX's products help the world's leading companies become more efficient, decrease risk and boost profits. For more information, visit www.signix.com or follow SIGNiX on Twitter.