Cloud-based electronic signature vendor signs with channel partner to increase distribution in financial industry.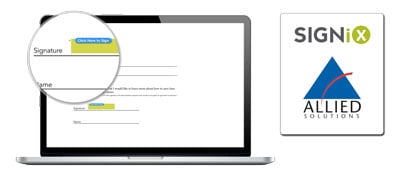 SIGNiX, the nation's leading digital signature provider, has strengthened its financial services sales reach in the United States by teaming up with Allied Solutions, a leading distributor of products and services to financial institutions.
"We know security is a top concern for banks and credit unions, and that's why our technology is a perfect fit," said Jay Jumper, president and CEO of SIGNiX. "We offer the most secure e-signature service in the market, and this relationship will help us gain an even stronger hold in the financial industry."
SIGNiX's digital signature products allow customers to send documents for signature online, improving efficiency and lowering costs without sacrificing security. Allied Solutions will expand the reach of SIGNiX's online signature capabilities by using knowledge gained from almost 30 years of experience selling to financial institutions across the country.
"Credit unions and banks are seeing the benefits of going paperless, and they're eager to start using e-signature technology to make that a reality," said Pete Hilger, President of Allied Solutions. "With SIGNiX, the benefits—Vendor FreedomTM, strong cryptographic evidence and ease of use—are extraordinary. We will be able to offer our customers industry-leading technology and meet their unique needs."
About SIGNiX 

SIGNiX, the Global Digital Signature AuthorityTM, makes signing documents online safe and secure. SIGNiX offers the only independently verifiable cloud-based digital signature solution, which combines convenience with best-in-class security. SIGNiX's products help the world's leading companies become more efficient, decrease risk and boost profits. For more information, visit www.signix.com.
About Allied Solutions

Allied Solutions, LLC is one of the largest providers of insurance, lending, and marketing products to financial institutions in the US. Allied Solutions uses technology based products and services customized to meet the needs of 4,000 clients along with a portfolio of innovative products and services from a wide variety of providers and maintains more than 20 regional offices and service centers around the country. Allied Solutions is a subsidiary of Securian Financial Group, Inc.