Credit unions choose e-signatures to increase member satisfaction, improve efficiency and enhance document security.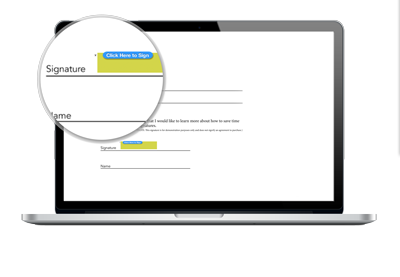 SIGNiX, the nation's leading digital signature provider, announced today that many of the country's top credit unions have standardized on SIGNiX for secure electronic signatures to reduce costs, ease compliance concerns and improve the member experience.
"Our members aren't just local anymore—they're global, and we're changing the way we do business to meet their needs," said Laurie Janak, assistant manager at Sacred Heart Credit Union in Hallettsville, Texas. "With SIGNiX, we can reach our members whether they're down the street or an ocean away."
Credit unions are placing their confidence in SIGNiX because the company's e-signatures are accepted by CUNA Mutual and exclusively endorsed by Credit Union Resources and the Tennessee Credit Union League.
Leading credit unions including Sacred Heart Credit Union, FedEx Employees Credit Association, Alcon Employees Federal Credit Union, Atlantic Regional Federal Credit Union, Access Community Credit Union, SRI Federal Credit Union and Mokelumne Federal Credit Union are just a few of the many credit unions that have chosen SIGNiX to help their members sign documents online, making it easier to conduct business on the go.
"SIGNiX has done a great job making our documents available to our members in a process that is quick, convenient and easy on our back-end workflow," said John Hays, vice president of lending and COO at Access Community Credit Union. "We really appreciate the security and convenience SIGNiX is bringing to our members."
In addition to boosting mobility and security, SIGNiX's signatures save time for credit union employees. The technology replaces the time-consuming process of sending, receiving, fact-checking and filing paper documents. Instead, credit union employees can prepare documents in minutes with the assurance that every finished document will come back without any missing signatures. SIGNiX helps:
Increase member satisfaction – Credit unions use SIGNiX to deliver a fast and easy way for members to sign documents online on any device.
Speed up document processing – Credit unions can create new documents faster with SIGNiX's simple integration with existing systems.
Reduce expenses – With less reliance on printing, faxing, mailing and file storage, credit unions can radically cut their operating costs.
"E-signatures are a fast and easy way for credit unions to get their documents signed online," said Jay Jumper, president and CEO of SIGNiX. "In addition to convenience, credit unions trust their documents with our highly secure technology, which is unmatched in the e-signature industry."
About SIGNiX
SIGNiX, the Global Digital Signature AuthorityTM, makes signing documents online safe and secure. SIGNiX offers the only independently verifiable cloud-based digital signature solution, which combines convenience with best-in-class security. SIGNiX's products help the world's leading companies become more efficient, decrease risk and boost profits. For more information, visit www.signix.com or follow SIGNiX on Twitter, Facebook and LinkedIn.