Document Wizard & Signing Experience Enhancements
21 CFR Part 11 - Support for Submitter-Chosen Reason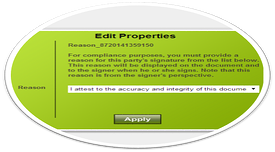 This FDA regulation requires that a 'reason' for signing be clear on the document or signature. In addition to allowing the signer to choose a reason from a customizable drop-down list, SIGNiX now supports the ability for the submitter to choose a reason for the signer in those use cases where that interaction might be appropriate.
---
Signature Engine™ Enhancements
New Client Preference for signature auto-advance behavior. Governs how signer will be redirected to next signature upon completion.

CC (Carbon Copy) Enhancements:

CC function now supported within MassMailer™. For more information on the MassMailer feature, click here.

New Client Preference to enable delivery of PDF Audit Trail as email attachment alongside completed documents
---
Other Updates & Bug Fixes from previous versions
Can now directly print consent from Read Legal Consent display

Changed handling of middle name/initial to better display in various scenarios

Changed display of timestamp on date field to reduce confusion

Resolved multiple interaction issues within eNotary flow

Improved process and flow within Client Choice functionality

Resolved minor issues with MassMailer feature regarding authentication validation and display of party list

Numerous client-specific optimizations and customizations

Numerous small bugs and errors resolved
---
Known Issues
Some minor translation issues still present with French and Spanish.
Note that some features may not be enabled by default, as some features are unique to particular industries and other features may be delayed to allow clients to train their users in advance. Please let your SIGNiX Account Representative know if you would like to access a feature that is not currently displayed in your account.
Screenshots in this release note are taken from a pre-production version of the release and thus may be different in the final, production release.