SIGNiX Announces New Client: Corner Stone Credit Union
Dallas credit union selects SIGNiX as its exclusive digital signature provider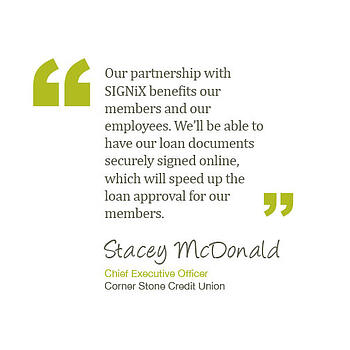 January 10, 2013—SIGNiX, a leading provider of secure digital signatures, recently added Corner Stone Credit Union (CSCU) to its client roster. CSCU will use SIGNiX's electronic signature service so its members can sign documents online.
"Our partnership with SIGNiX benefits our members and our employees," said Stacey McDonald, CEO of CSCU. "We'll be able to have our loan documents securely signed online, which will speed up the loan approval for our members."
SIGNiX will employ its MyDoX product, a standalone interface that enables users to upload documents, customize fields and immediately send documents out for signatures. SIGNiX uses cloud technology for document creation making implementation seamless with no hardware or software.
In addition to convenience, MyDoX adds a level of security to the document signing process that wasn't possible before. SIGNiX's signatures are fully compliant with the U.S. E-Sign Act, state UETA laws and international document and cryptographic standards.
"MyDoX lowers credit unions' risk by tying users' identities to their signatures," said Jay Jumper, President and CEO of SIGNiX. "The documents created in MyDoX have the document history built in, so anyone with free PDF reader software can open a document to see if it has been tampered with."
About SIGNiX
SIGNiX, headquartered in Chattanooga, Tenn., offers a standards-based digital signature service that lets users send and sign documents online without compromising on security. SIGNiX enables customers to make their processes paperless with a solution that is secure, auditable and compliant with laws and regulations in the United States and internationally. Users can be immediately authenticated online so documents can be legally executed electronically without the costs, risks, delays or resources of paper processing.
About Corner Stone Credit Union
Corner Stone Credit Union has been serving the Dallas community since 1952. Like other credit unions, Corner Stone Credit Union is owned by its members. Earnings, after payment of expenses and allocation of reserves, are returned to the members in the form of dividends and interest. Corner Stone Credit Union's services are designed to meet members' financial needs and are priced fairly and competitively.