The latest update to the SIGNiX Signature Service includes highly requested features such as signature image upload, as well as numerous bug fixes, authentication vendor improvements and updates.
(149)
API / Integration
Resolved issues with 'Reason' field during integration of 21CFR11 signatures and workflows (API only). Also resolved other inconsistencies with printed name and reason.
Modified 'view' experience in GAL call / embedded signing transition
User Experience
Signers can now choose to upload an image rather than draw a signature when they create their signature appearance by clicking the Upload On mobile, users can even snap a picture of a wet ink signature and use that image.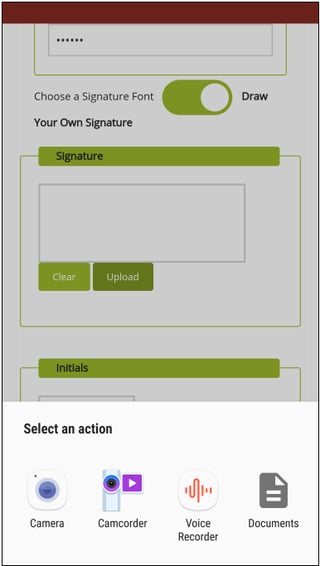 Updated language in Finished Signing dialog to be more intuitive

Latest submitter MyDoX Wizard and Editor:

Added MassMailer™ two party support to the latest version of the Wizard submission interface.*
Addressed issue where submitters would experience problems editing signers and order when more than 10 signers were added to a single transaction in the latest Wizard signer tab.
Fixed issues where transactions started as 'Suspend on Start' couldn't be resumed in latest Wizard.
Resolved dropdown and scroll issues in latest version of the document editor in situations where large documents were involved.
Pop a dialog after a Read, Agree or Acknowledge task is added, explaining who the task was added for and how to delete it.
Disabled Address Book in new Wizard, pending re-design. Can enable/disable in future as option.
Signers are now more clearly informed they need to Accept or Decline the Legal Consent before entering an SMS text code
Architecture
Made background changes to knowledge-based authentication provider. No changes required to API calls or testing procedures.*
Implemented new internal billing reporting for KBA authentication, and added additional submitter detail to other billing reports
Created better internal controls over which emails are permitted to be delivered for each client.
Other Items
Fixed very rare issue with audit trails using wrong coversheet ID
Resolved bug which had removed Submitter Link from submitter completion emails.
Fixed issue where long signer names and/or large numbers of signers could lead to issues with transaction completion/status.
Added transaction name to email sent to submitter when an unsupported browser is used by a signer
Addressed issues with submitter password changes and odd errors.
Please let your SIGNiX representative know if you have any questions. Thanks for your business!
*Features are optional and may incur additional cost.