Get The Most Detailed Audit Trail in the Industry With SIGNiX's TotalAuditTM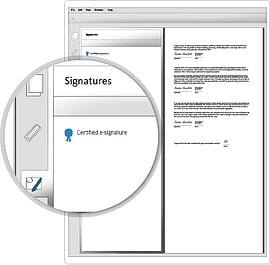 Most e-signature companies use audit trails (sometimes also called an audit log) to track the steps of the signature process. The audit trail is a powerful tool that can prove who signed a document and when they signed it.
We've always taken pride in offering the most detailed audit trail on the market. This feature, which we call TotalAuditTM, is included at no additional cost.
TotalAudit keeps track of all of the following events:
Transaction creation
Emails and notifications sent to any signer
Signers consent to use e-signatures
User authentication
Documents viewed by each signer
Signature creation (by each signer)
Party agreement to/acknowledgment of document
Transaction completion
Document downloads after signing
Cancellations and opt outs
Changed party information


The SIGNiX platform establishes a trustworthy process for binding the identity of an individual to a digital signature. This is crucially important.
—Timothy Reiniger, lawyer and member of the Electronic Discovery and Digital Evidence Committee of the American Bar Association