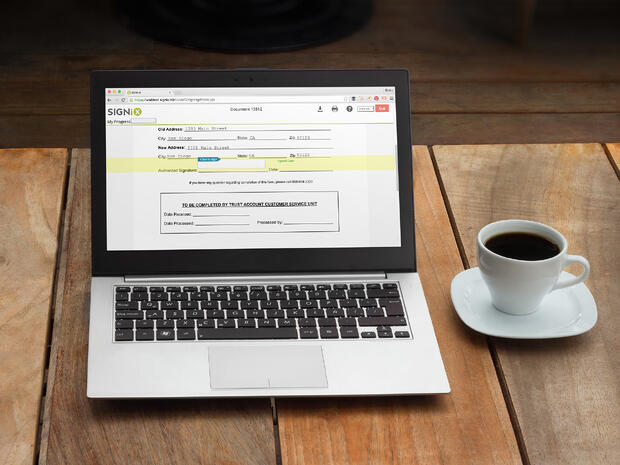 ---
At SIGNiX, we offer our customers security, affordability and convenience through our electronic signature services. And when our customers speak, we listen! In order to improve the overall signing experience and to make it more intuitive, personalized and pleasant we have implemented ten new enhancements:
---

1. Clean, Modern Look and Feel
We've completely revised the color scheme and layout to eliminate clutter and present a next-generation signature experience. However, we've retained much of the previous experience so that you will easily recognize our trusted service.
2. View and Sign on Any Screen
The signing experience now automatically reconfigures itself so signers can easily sign documents whether they are using a 27" display, a tablet, or a 4" screen on a mobile phone.
3. Personalized and Simplified Dialogs
The signer's name is included in dialog boxes, as well as a clear explanation of what the signer needs to do throughout the signing process. We've also reduced the amount of clicks required to complete common actions.
4. View and Sign All Documents at Once
All documents are presented together and can be scrolled through completely. (Also, based on user feedback, we have eliminated the 'Document List' screen to speed the signer into the review and signing process.)
5. Completion Process Substantially Improved
Signers are now clearly notified when they have completed all of their signatures / tasks and can easily confirm their signatures and finish signing.
6. Easily Download / Print All Documents Upon Completion
You can now download or print your documents immediately after you finish signing. (No need to go through an intervening document list screen.)
7. Updated Term "Signing PIN" to "Signing Password"
This change was requested by many users. So, we gladly delivered. Our language now refers to the code you use to access your documents as a "password" to reflect the fact that it can be made of both numbers and letters.
8. All Signatures Viewable as Entered by the Signer
Previously, depending on certain settings, some signatures would render as italicized text in the document view until the signing process was finished. Now, those signatures render correctly.
9. Returning Signers Can Update Their Signature
If you're not happy with the signature you picked the last time you signed with us, you can change it! With a simple check of a box, you can update your signature, easily and quickly.
10. Progress, Next / Previous Signature Controls Improved
You can easily see your progress with a simple graphic, and navigate to your signatures and other fields with obvious NEXT and PREV buttons.
---
In addition to these ten enhancement features, SIGNiX is continually striving for the best possible service by eliminating any known issues which may hinder the user experience. We recognize that timing is key in the electronic signature process which is why we carefully consider customer feedback in order to drastically reduce turnaround time. We are pleased to work with our customers on making the SIGNiX experience one which they will embrace.
With all of these changes, there's never been a better time to give SIGNiX a try. Want to see what it's like to sign with SIGNiX? Request a sample document to give it a try!