The County of San Diego, California prides itself on innovation that slashes bureaucracy, makes citizenship easier and reduces government spending. Much of this innovation comes about through technology. One specific example is the partnership we've formed with SIGNiX to deploy Independent E-Signatures™ within several of our government processes.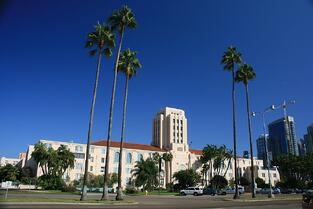 The experience has been outstanding. In just the past few months, we've received multiple awards for our e-signature program. Notably, the County of San Diego was awarded the Center for Digital Government's Digital Government Achievement Award in the Government-to-Citizen (local government) category for our online homeowners' exemption process, which includes using e-signatures.
It is my hope that these accolades help to share our story and successes so that others in the government sector will consider developing their own digital processes.
In fact, I just recently had the pleasure of co-presenting with SIGNiX to government assessors at the California Assessors' Association annual conference. We demonstrated how the County of San Diego uses e-signatures to make traditionally paper-based government processes easier and more convenient. The reaction of our onlookers was the same as mine when I first began researching and implementing our e-signature pilot program: people were amazed at how easy it was to use e-signatures and were impressed at the level of security provided with Independent E-Signatures™, specifically.
Our use of e-signatures has grown in recent months, but let's start from the beginning.
Where we began
As is true with most government municipalities across the country, we knew the County of San Diego could improve many of its paper forms-related workflows by moving them into an online portal. But as with any change like this, we knew there would be adjustment and hesitation from some staff and citizens, so we started our e-signature program small.
In 2013, we worked with SIGNiX to implement an e-signature pilot program for about 3,000 change-of-address forms. We received a positive response almost immediately. People loved the ability to quickly and easily handle government processes online.
Where we are now
Once our pilot proved successful, we expanded our use of SIGNiX's Independent E-Signatures™. We now use e-signatures for the homeowners' exemption form — a form the county processes for up to 36,000 residents each year. Adding e-signatures to this one workflow cut 14 steps from the manually intensive process.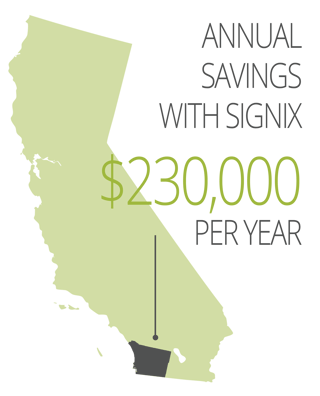 We also now use e-signatures for the Business Change of Address and Business Change of Ownership processes, and e-forms for the Proposition 8 form, the application for a monetary exemption on property taxes.
The financial benefit of our e-signature program is significant. Using e-signatures for just these five forms saves the county approximately $230,000 each year in labor costs and in paper-related expenses, like ink, paper and postage.
Where we are going
We saw an ROI on digital signatures within months, not years. So it's not surprising that the county will continue to look for strategic ways to further leverage e-signatures in our government processes. We're already planning to implement the program for assessment appeals and parent/child exemption forms in the coming fiscal year, and it's likely those will not be the last.
We've received phone calls and emails from other governments—even those outside of the state of California—asking about our program and how they could produce similar results.
For those agencies dabbling in paperless workflows, my take-home advice is this: remember that digital signatures are legal, and they have been since 2000. Still, it will be important to check your state's guidelines. (For example, California laws are actually very strict with regard to the level of security necessary for government e-signatures. Only select vendors with e-signature technology, like SIGNiX, can be used.) Also, know that even with a transition to a new online workflow, digital signatures make forms easier and more efficient for everyone involved—including staff and taxpayers.
If you're interested in learning more about how the County of San Diego implemented e-signatures, or if you want to ask specific questions about SIGNiX's Independent E-Signatures™ for government, I'll be joining the SIGNiX team for a free webinar on May 4th at 12:00 PT, 3:00 ET. Click here to sign up.

Rolf Bishop is the Chief Information Officer for the County of San Diego's Assessor, Recorder and County Clerk's office. Learn more about the County of San Diego by visiting http://www.sandiegocounty.gov/.
Did you know that not all e-signatures are created equal? Download this free white paper to learn the differences!