Last week, we exhibited at the National Association of REALTORS® (NAR) Midyear trade show and conference in Washington, DC. It was great to connect with the over 13,000 real estate professionals who traveled to our nation's capital for the show and a rally on the Mall, and to learn how much they relied upon zipLogix Digital Ink®, the e-signature service powered by SIGNiX. Used by over 200,000 zipForms® customers, Digital Ink allows the real estate professional who uses zipForms to quickly and easily route documents for electronic signature directly from zipForms without needing to go through any extra steps.
We heard so many stories about how our easy-to-use digital signature product was essential for the day-to-day business of real estate, enabling buyers and sellers separated by multiple state lines to simply and quickly electronically sign and execute real estate contracts and paperwork. In the past, these professionals explained, papers would have needed to be delivered overnight or faxed to parties in the transaction, and that meant days waiting for folks to sign off on their respective copies. Often, documents would get lost or be misplaced, requiring the real estate professionals to resend the documents, incurring more cost on the way.
With the Digital Ink electronic signature service, these real estate professionals now use their laptops, iPads and tablets to send out documents, monitor the signing process, and close on deals in hours as opposed to days. They also said customers were very fond of electronic signatures, and seldom objected to getting rid of paper!
Moreover, many of these professionals also commented on the security inherent in the digital signatures produced by the Digital Ink and SIGNiX service, and appreciated the reduced risk present in these electronically signed documents.
We received a lot of great suggestions for how we can make the mobile experience better, how collaboration could be improved, and how we could change certain interface aspects to make our product even easier to use. We were excited to get this feedback, and you can be sure it will be reflected in the product in the near future.
Of course, the SIGNiX team enjoyed spending some time bonding in our nation's capital. Here's our Vice President of Sales, Rich Heller, at Ford's Theatre: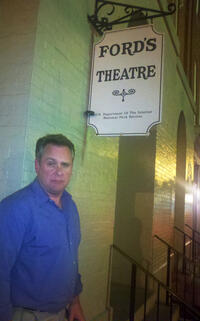 We look forward to attending future real estate events and want to thank our partner zipLogix for a great show!