CHATTANOOGA, Tenn.—November 14, 2013— SIGNiX, the leading provider of enterprise digital signature solutions, announced today that its partner zipLogix, creator of the real estate industry's leading contract software zipForm®, has partnered with Terminus Sistema Global of Mexico to bring industry-leading tools to real estate professionals in Mexico for the first time. Real estate agents will have access to the zipLogix Digital Ink® digital signature service, which is powered by SIGNiX technology.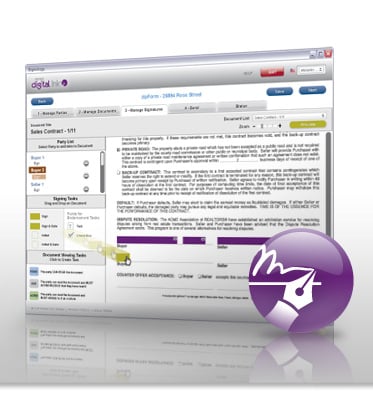 Digital Ink's interface language can be changed to either Spanish or English, as the user sees fit. Several zipLogix tools, including zipForm Plus, zipForm Mobile Web Edition, zipVault®, zipForm MLS-Connect® and zipLogix Digital Ink will integrate to bring a suite of real estate software that will be available in Mexico as Intelidocs.
"We're very excited to bring such an amazing and game changing product to the Mexican real estate industry," stated Ross E. Buck, Co-Owner of Terminus Sistema Global. "Document standardization will help build consumer confidence in the Mexican Real Estate Industry allowing for faster and safer transactions which will stimulate more transactions and new foreign investment."
SIGNiX digital signature technology provides the Signature Engine™ behind zipLogix Digital Ink, and is seamlessly tied to zipForms Plus, allowing real estate professionals to easily send documents out for signature. This way, buyers and sellers can immediately execute critical paperwork without having to leave their homes or offices, improving the customer experience and significantly improving closing time. SIGNiX digital signatures are based on open, published technical standards, providing piece of mind for attorneys, agents and clients alike.
The first client utilizing Intelidocs powered by zipLogix real estate software solutions is Century 21® – Mexico, which includes 122 offices throughout Mexico with 2,000 agents. Intelidocs will also be available in all 31 states of Mexico including the Federal District. Mexican real estate professionals will have access to a standardized platform that will streamline their workflows, helping them close deals faster.
"zipLogix has been an incredible partner over the years, and we've enjoyed growing with them to serve hundreds of thousands of real estate agents in the United States," said Jay Jumper, president and CEO of SIGNiX. "This expansion to Mexico further establishes our leadership in the real estate market through zipLogix."
About SIGNiX 

SIGNiX, the Global Digital Signature AuthorityTM, makes signing documents online safe and secure. SIGNiX offers the only independently verifiable cloud-based digital signature solution, which combines convenience with best-in-class security. SIGNiX's products help the world's leading companies become more efficient, decrease risk and boost profits. For more information, visit www.signix.com.
About zipLogix


The zipLogix family of tech-savvy products are the recognized industry standard for electronic real estate forms and transaction management systems. zipLogix products are currently offered to more than 884,000 real estate professionals, more than any other real estate software program. zipForm® is the Exclusive and Official forms software of the National Association of REALTORS®. zipLogix also offers relay®, the web-based transaction management system. zipLogix provides transaction solutions to real estate professionals that enhance the value of services they deliver to their clients while improving productivity and efficiency.
zipLogix, a subsidiary of Real Estate Business Services, Inc. (REBS), is a joint venture between REBS and the National Association of REALTORS®. zipLogix is also a proud Partner in NAR's REALTOR Benefits® Program.