Every day it seems like a new technology is being developed to make our lives easier. Between the rise of the Internet and the pervasive nature of technology, it can feel like we're already living in the future.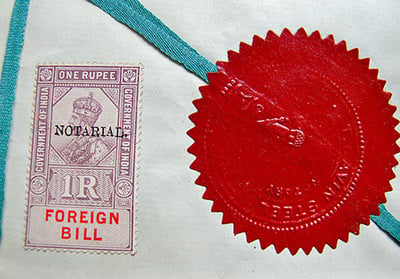 Our lives have been transformed into sleek, efficient, easy processes that are increasingly automated, giving us more time to focus on the creative aspects of business. Because of these advances, our businesses are getting better at what they do as we allow the web to do its work of connecting us and making data more accessible.
Out of the Middle Ages
But this rosy picture of our present isn't a reality yet, is it? As much progress as we've made to go digital, we've also opened ourselves up to new security concerns. That's why, when it comes to verifying signatures and documents, so many people choose to live in the past by using slower, less efficient methods.
Notarization, for example, is a part of almost every step of important business transactions. Yet the process remains firmly rooted in the traditions of medieval Europe, when seals and signatures were all you needed to verify and authenticate a document.
It can seem strange to conduct business digitally on the cloud, only to occasionally halt all proceedings until the documents can be brought to a notary, physically notarized, signed, and then uploaded into the system to continue its journey as a digital file—or worse, remain in paper.
This slows down your business process for the sake of security, but thanks to new technology you don't have to choose between security and efficiency. You don't have to rely on physical, in-person notarization anymore thanks to SIGNiX's eNotaryDoX, a secure remote online notarization service.
Safer Than Ever
With eNotaryDoX, you can say goodbye to the additional costs and delays involved in physically appearing before a notary and using paper documents, ink and notarization tools to authenticate a document. Instead, the whole process is converted into an entirely digital process using video conferencing technology — the same technology many businesses already use to for remote meetings. If you rely on the cloud, mobile devices and video chat to conduct meetings, why not use it for your notarization services too?
The reason people go to a notary is the added security and authenticity that the process adds to the transactions. With the security concerns that come with doing business online, it may seem counter-intuitive to take digitize the process of authentication and notarization. But, that's only a concern when you don't take the right actions to safeguard your data.
To protect your notarized documents from the kind of tampering that could wreck your business process and do serious financial damage, eNotaryDoX includes strong signer authentication methods—to be sure the signer identity is proven—and standards-based digital signature technology to protect the document from tampering. In fact, this technology offers more evidence than the traditional paper notarization process.
Furthermore, SIGNiX offers a feature called TotalAuditTM with its remote online notarization services. The TotalAudit records each step in the notary process itself, including signatures, identity authentication and more. While there will always be the threat of security breaches and tampering with documents, TotalAudit can ensure that every step of the notarization process has been recorded and is available to be checked against if the document is ever called into question.
The Future is Now
Your business has moved into the 21st century, and you're continuing to adapt to the communications, data and security challenges that businesses face today. Why not bring your authentication, verification and notarization process along for the ride by making remote electronic notarization a standard part of your business process? When you consider the security precautions built into leading solutions like eNotaryDoX, the speed and cost saving associated with electronic notarization seems like a can't-miss opportunity.
Your business will be faster, more efficient and more profitable than its competitors by being one of the first to adopt the business practices that everyone else will soon be adopting as well. Online notarization will be an inescapable service in the future—the days of the paper notary, meeting in musty rooms at odd hours with stamp and ink, are numbered.