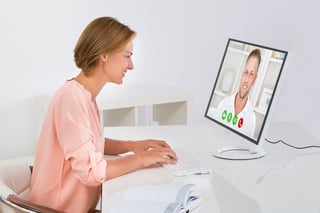 After decades of the traditional, inconvenient, paper-laden approval process, official notarizations are now being performed electronically and remotely. And the technology behind it all is starting to gain national attention by some of the biggest names in the notary, finance and government industries.
The National Notary Association (NNA) recently published a white paper about the growing support for e-notarization and how it works. (And to demonstrate the remote e-notarization process for white paper readers, the NNA featured SIGNiX's demo video of a remote e-notarization.)
According to the NNA's white paper, several influential industry organizations have voiced their support of e-notarization technology, especially in the mortgage finance industry. In 2015, the Consumer Financial Protection Bureau stated that electronic loan closings are beneficial to consumers. And in 2016, Fannie Mae, Freddie Mac and Quicken Loans endorsed the use of both e-notarization and remote e-notarization. In a joint statement, Fannie Mae and Freddie Mac—government-sponsored enterprises in the mortgage financing market—concluded that the technology would improve "the assurance, authentication, security and documentation of notarial acts."
And these are only a handful among others. The National Association of Secretaries of State, the Electronic Signature & Records Association and the American Land Title Association are among the many others that are opening up conversations about e-notarization, remote e-notarizations and their potential benefits for an increasingly digitally focused society.
Why the momentum?
Because remote e-notarizations offer a host of benefits—including security, efficiency, cost savings and the freedom to notarize documents on-demand.
"Electronic and remote webcam notarization systems can transform your business processes by creating new efficiencies reliably and securely." – National Notary Association
Remote e-notarizations are highly secure and help mitigate the risk of forgeries by requiring the signer to verify his identity and the notary to archive the audio-video recording of the notarization. Businesses that offer remote e-notarization are able to give their clients a secure, convenient method to have documents notarized electronically, which in turn reduces paper usage, eliminates the need for paper storage and saves money. Remote e-notarizations are also a big time-saver for both signers and notaries as the approval process can be completed from anywhere with an internet connection.
Because the traditional requirement of physically appearing before a notary is replaced by digitally appearing before a notary, extra security procedures have been put in place to ensure the signer is who he says he is. For example, knowledge-based authentication (KBA) presents questions to the signer based on information found in 30 years of public records, such as details from credit reports, town hall records, public health records and more. The signer must answer a certain number of questions correctly within a designated amount of time to verify his identity and be permitted to access and sign the document.
Electronically notarized documents also come with a unique layer of security that traditional paper-based notarizations simply don't have. If an individual ever alters a document, tamper-evident technology found in digital signatures, or Independent E-Signatures™, will immediately identify the suspicious activity. Additionally, each signed document is accompanied by a complete audit trail, which indicates the date and time a document was signed, the signer's IP address and more. This ensures that the evidence of a signature is captured and fully accessible for years to come.
For a deeper analysis of e-notarization and remote e-notarization, be sure to read the NNA's white paper about this emerging technology. Highlights of the white paper include:
Essential elements of paper-based and electronic notarizations
Benefits of e-notarization
Benefits of remote e-notarization
Ready to make your move to remote e-notarization? Click here to get a free quote!