FRASER, Mich., Nov. 11, 2013 — zipLogix, the leading provider of electronic forms for the real estate industry, announces a new release to their digital signature service zipLogix Digital Ink™ powered by SIGNiX. This release streamlines the digital signature process, providing a complete digital signature solution for agents, brokers and their clients. In addition to new features, the latest release of zipLogix Digital Ink™ will offer a new type of account that is an unlimited yearly subscription. The yearly subscription is available alongside the current transaction credit based account.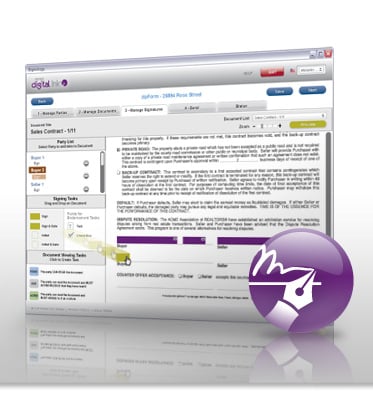 The latest release includes the following features: signature previews, automatic date fields and an updated document delivery system. The signature preview allows the preparer of documents to visualize the signature as it would appear once signed. This feature improves the ability to adjust the size and placement of signature tags.
Also featured in the document editor is the automatic date field function. Once a signature is dragged onto the document a date field will be placed adjacent to it for an accurate time stamp. The document delivery update changes the format from a compressed zip file with all documents to individual PDF files for each document. This enhancement improves the ability to view signed documents for mobile users.
"zipLogix has been a driving force for real estate professionals that continue to grow their business with technology, and we are proud to continue this tradition with each release," stated Walter McDonald, Chairman of the Board for zipLogix. "This release for zipLogix Digital Ink™ furthers our commitment to meet the technological needs of the real estate industry."
This release for zipLogix Digital Ink™ has streamlined document editing and viewing digitally signed real estate transactions. These features allow for agents and brokers to become green practitioners while freeing up time to increase their business. zipLogix strives to improve their products for all real estate professionals and this release is a further testament to this desire.
With extensive knowledge of the way real estate professionals do business, zipLogix continuously develops and enhances its suite of tools for the real estate industry. For more information on solutions for today's real estate industry or to discuss association partnership opportunities, contact Wendy Waldrep at 888-318-2660 X130.
About SIGNiX
SIGNiX is the premier provider of business optimization through digital signatures for industries including financial services, insurance, healthcare, government, and education. SIGNiX helps the enterprise transform and expedite transactions, scale their business processes and reduce costs with the proper controls required by regulation, legislation and industry best practice. Digital signature solutions produce legally enforceable electronic records while moving to a paperless environment. SIGNiX provides a trusted digital signature on every online business document. For more information, visit www.signix.com.
About zipLogix
The zipLogix family of tech-savvy products are the recognized industry standard for electronic real estate forms and transaction management systems. zipLogix products are currently offered to more than 884,000 real estate professionals, more than any other real estate software program. zipLogix also offers relay®, the web-based transaction management system. zipLogix provides transaction solutions to real estate professionals that enhance the value of services they deliver to their clients while improving productivity and efficiency.