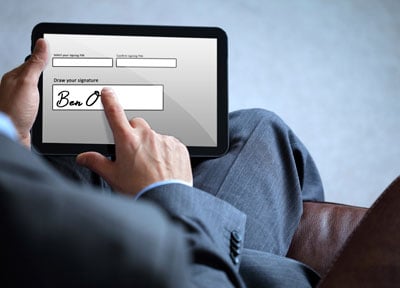 During our ten years in business, we've been lucky to be able to partner with a lot of industry leading companies. In the real estate space, that partner is zipLogix, the industry's leading provider of electronic forms. We power the technology behind their zipLogix Digital Ink™ product.
Today, zipLogix announced an update to zipLogix Digital Ink™ to make it even easier for real estate agents to prepare and sign documents online.
Homeowners and buyers can now sign documents using their finger or stylus on an iPad or other tablet device. Or if they decide to sign on their computers, they have additional signature fonts to choose from.
Other zipLogix Digital Ink™ upgrades include:
A sleeker, more intuitive signing interface that takes advantage of wide screens and tablets
Easy access functions including print, download and zoom
Updated dialog text to better guide signers
Easier document prep, including drag-and-drop signatures and a single-click "add date" feature
"The upgrades that have been delivered consistently for zipLogix Digital Ink™ have created the digital signature powerhouse utility for all real estate practitioners," said Walter McDonald, Chairman of the Board for zipLogix. "Enhancing the customization options and improving preparation tools have enabled each user to make the experience their own and maintain ease of use."