Oct. 1, 2013—CHATTANOOGA, Tenn.—SIGNiX, the leading cloud-based digital signature solution provider, and Docupace Technologies, LLC, an industry leader in providing SEC/FINRA-compliant paperless processing systems for financial services firms, have joined forces to provide independent broker-dealer Legend Equities Corporation, a part of The Legend Group of companies, with a comprehensive straight-through processing (STP) and digital signature solution for its 400 registered representatives.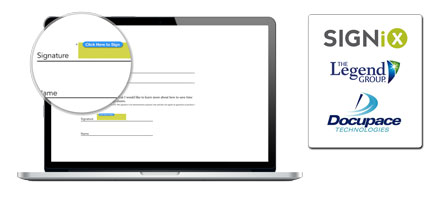 "Through a close working relationship among SIGNiX, Docupace and Legend, we succeeded in overcoming the industry's long-standing challenge of straight-through processing," said Tom Embrogno, executive vice president of Docupace. "Legend's executives are forward thinkers with the ability to flawlessly execute."
One Legend branch office that was an early adopter anticipates a savings of $18,000 per year by not having to use UPS to send documents back and forth. Advisors now can carry their entire office in their briefcase, and many feel that the Docupace/SIGNiX solution will be an indispensable tool for growing their business.
"Our digital signature process uses advanced, standards-based cryptography to achieve best-in-class security and enables our broker-dealer clients to feel confident that they are in compliance with regulations," said Jay Jumper, CEO of SIGNiX. "The straight-through processing of forms and documents reduces errors and enables fast access to electronic documents for auditing purposes."
The STP system enhances advisors' productivity by offering a comprehensive forms library with Legend, mutual fund and insurance company forms, all of which can be auto-populated with multiple eSignatures. The entire process is efficient and accurate and results in a lower not-in-good-order (NIGO) rate and easier resolution for the few issues that may arise.
"This STP solution allows our advisors to pre-populate paperwork, obtain electronic signatures, and submit and store documents without ever having to print a page," said Miralda Gingrich, president of The Legend Group/ADSERV. "Our partnership with Docupace and SIGNiX has enabled us to implement a leading-edge solution to save our advisors time, space and money. This is a huge competitive advantage for our business."
The system integration was completed in October 2012 and quickly resulted in 200 out of 400 advisors using the STP solution within 6 months. Legend currently has approximately 300 users on board and is focused on achieving 100 percent adoption in the near future.
"We are very excited about the efficiencies our STP 'paperless' system affords our advisors. Not only does it act as a virtual assistant, but our advisors will get paid quicker. It will help them expedite processing time, eliminate errors and streamline their businesses," added Legend's Senior Vice President Regina Rudnick.
About SIGNiX
SIGNiX, headquartered in Chattanooga, Tenn., makes signing documents online safe and secure. SIGNiX offers the only independently verifiable cloud-based digital signature solution, which combines convenience with best-in-class security. SIGNiX's products help the world's leading companies become more efficient, decrease risk and boost profits. For more information, visit www.signix.com.
About Docupace Technologies, LLC
Docupace Technologies, LLC, is a privately held company based in Los Angeles. Established in 2002 and quickly gaining market share, the company is an industry leader in delivering SEC/FINRA compliant paperless processing systems to financial services firms. With their core offering, ePACS®, Docupace allows broker/dealers to connect systems, documents and data seamlessly for cost savings, efficiency and overall better business. Over 300 clients, including some of the largest broker/dealers in the marketplace, are using Docupace and the ePACS solution to streamline their business workflow, store hundreds of millions of documents and make efficient straight-through processing a reality. A military-grade storage facility and state-of-the-art systems provide a safe and secure location which houses and serves up the client's most sensitive data, with virtually no lag time, on demand, 24/7. For more information, visitwww.docupace.com.
About The Legend Group®
The Legend Group is a unique investment services provider offering quality investment solutions for our clients for nearly 50 years. We provide a wide variety of products to our clients with premier personalized service and attention. The Legend Group of companies provides investment solutions for retirement, education savings plans, insurance needs, income generation and professional portfolio management. The corporate headquarters is located in Palm Beach Gardens, Florida, with additional offices around the country. For more information about The Legend Group visit www.legendgroup.com.