B&C Financial will use SIGNiX's secure electronic signature service to get documents signed online in minutes.
CHATTANOOGA, Tenn.—April 8, 2014—SIGNiX, the leading provider of cloud-based digital signature software, announced today that B&C Financial. has joined its quickly growing list of clients in the financial services industry. The Florida-based registered investment advisor (RIA) chose SIGNiX because of its reputation as a highly secure and compliant e-signature service.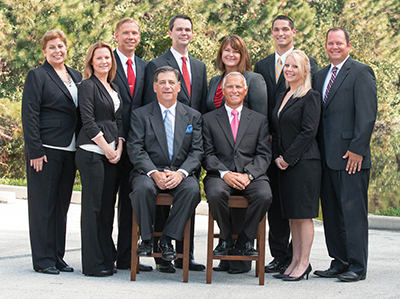 "We're serious about protecting our clients' sensitive documents, and that was a huge factor for us when we were picking an e-signature vendor," said Jacqueline Bos, Chief Compliance Officer at B&C. "SIGNiX's focus on security and compliance made them a perfect fit for our business."
B&C will use SIGNiX's MyDoX cloud-based service to replace the time-consuming process of sending, receiving, fact-checking and filing paper documents. Instead, advisors simply go to their web browser to prepare documents in minutes with the assurance that every finished document will come back without any missing signatures. Additionally, SIGNiX's technology is approved by Pershing, the third-party custodian B&C advisors clear through.
"Our team is laser focused on customer service, which is why electronic signatures were such a good fit. The paper process of printing, mailing and faxing paper documents was a hassle for our clients, and we knew there had to be a better way," said Mollie Stafford, Marketing Coordinator at B&C. "With SIGNiX, our clients can sign documents online, whether they're sitting at their desk, stuck in the airport or anywhere in between."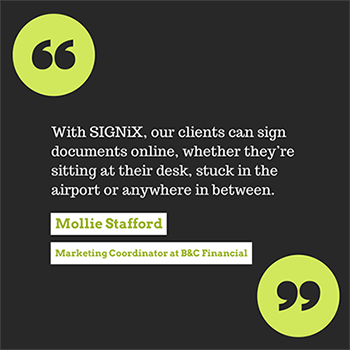 With SIGNiX's products, financial advisors can:
Speed up the pace of business—Digital signatures will get client signatures on investment documents in hours instead of days or weeks. And unlike paper documents, the SIGNiX process can enable mandatory fields, which means 100% complete documents every time. No more tracking down clients to have them re-send or re-sign documents.
Better serve their clients—With digital signatures, clients sign documents anytime, anywhere on any device. This technology makes it faster and easier to interact with advisors.
Increase efficiency—Digital signatures save time for advisors because documents can be sent out for signature instantly. That means more time to spend on relationship building and sales instead of paperwork. Not to mention the savings they'll see by reducing the need to print, fax and mail documents.
Enhance legal and compliance oversight—SIGNiX offers the highest possible level of document security. Signed documents are tamper-evident and come with a highly detailed event log, giving the firm comprehensive legal evidence in case a document is challenged in court. In addition, SIGNiX is the only e-signature solution to offer secure digital shredding. Many firms prefer to store confidential client documents on their own servers, and SIGNiX's exclusive FlexStorageTM technology gives firms this option since the necessary legal evidence is embedded in every document.
"B&C's documents can last generations, not just a couple of years. That's why they needed an e-signature technology that's based on standards that will stand the test of time," said Pem Guerry, executive vice president of SIGNiX. "We rise above our competitors by offering digital signatures that will still be valid decades into the future."
About SIGNiX
SIGNiX, the most trusted name in digital signatures, makes signing documents online safe and secure. SIGNiX offers the only independently verifiable cloud-based digital signature solution, which combines convenience with best-in-class security. SIGNiX's products help the world's leading companies become more efficient, decrease risk and boost profits. For more information, visit www.signix.com.
About B&C Financial
B&C Financial is a registered investment advisory firm that was founded in 1995 by Jan Butensky and Allan Cohen. Their portfolio managers have more than 75 years of combined experience in the financial industry. The firm constructs portfolios consisting of both stocks and bonds with an emphasis on preservation of capital, as well as providing consultations for financial and estate planning. Learn more at www.butenskycohen.com.