SIGNiX's SEC/FINRA-compliant digital signature service now available within Docupace Technologies' document management system for the financial services industry.
CHATTANOOGA, Tenn.—March 4, 2014—SIGNiX, the leading provider of secure digital signature services, has partnered with Docupace Technologies, LLC, an industry leader in providing SEC/FINRA-compliant paperless processing systems for financial services firms, in a continued effort to bring true straight-through processing to the market for all financial advisors, broker-dealers and RIAs.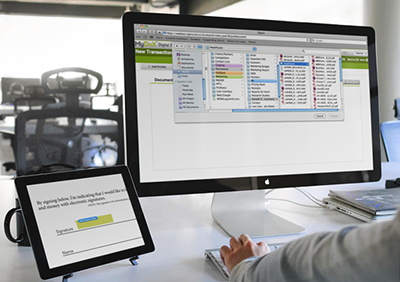 "Last month, when it was announced that Pershing had selected SIGNiX as the digital signature solution to be integrated into NetX360, we were extremely excited at Docupace," says Chief Executive Officer, Michael Pinsker. "If Pershing's decision to move towards e-signatures was not a seismic shift in the industry moving toward straight-through processing, then I'm not sure what is. This provides credibility that straight-through processing is having a profound impact on the way the industry is progressing."
SIGNiX's digital signature service uses advanced, standards-based cryptography to achieve best-in-class security, enabling broker dealers to feel confident they are complying with SEC/FINRA regulations. This process will be integrated into Docupace's turn-key solution (Docupace STP Network®) along with Docupace's methodology and procedures for deploying e-signatures. SIGNiX will inherit Docupace's comprehensive compliance attributes.
The straight-through processing of forms and documents reduces errors and enables quick, transparent access to electronic documents for auditing purposes, virtually eliminating most NIGO conditions.
"Adoption of digital signatures by investment advisory firms as well as clearing firms and custodians is clearly escalating at a very rapid pace as awareness of the legal acceptance and compelling benefits has become widespread," said Jay Jumper, president and CEO of SIGNiX. "Docupace is playing a critical role in the industry's progress, and SIGNiX is excited to bring digital signatures to their expanding client base with this seamless integration."
With Docupace, advisors, broker-dealers and RIAs can work directly with one supplier from contract through support.
"As an integral part of the Docupace STP Network®, SIGNiX provides an easy-to-use and improved onboarding experience to advisors, allowing them to e-sign with more products for all of their business, not just one product type or single entity," said Docupace Chief Strategy Officer, Kevin Laraia. "Advisors, BDs and RIAs can realize straight-through processing, and e-signatures are not just something to look forward to in the future. Our partnership with SIGNiX makes both a reality in today's marketplace."
About SIGNiX
SIGNiX, the most trusted name in digital signatures, delivers a digital signature solution that is easy to use while delivering the highest level of security and compliance. With SIGNiX, getting your documents signed electronically, either remotely or in person, is simple and safe. The online delivery of documents for execution significantly decreases cost, paperwork and turnaround time. SIGNiX's software also enables mandatory fields, eliminating the hassle of not in good order (NIGO) errors. All of SIGNiX's signed documents come with more comprehensive legal evidence to support them than any other e-signature solution on the market. All of the legal evidence is built right into the document and is independently verifiable, so you'll always have it on hand if one of your documents is ever challenged in court or through arbitration. For more information, visit www.signix.com.
About Docupace Technologies, LLC
Docupace is a privately held company based in Los Angeles. Established in 2002, the company is an industry leader in delivering SEC/FINRA compliant paperless processing systems to financial services firms. With their core offering, Docupace STP Network®, Docupace allows broker/dealers to connect systems, documents and data seamlessly for cost savings, efficiency and overall better business. Over 300 clients, including some of the largest broker/dealers in the marketplace, are using the Docupace STP Network® to streamline their business workflow, store hundreds of millions of documents and make efficient straight-through processing a reality.