It seems like we're always hearing about another business falling victim to tampering or fraud. It's easy to focus on outside threats, but don't ignore the people on your payroll. Just last week, the SEC fined Wells Fargo $5 million for a case where one of their employees tampered with a document. The employee was fired, but the financial damage was already done.
The Cost of Document Tampering and Fraud
The average organization loses 5% of its revenue to internal fraud. What's worse, more than half of the victim organizations never recover their losses, according to the Association of Certified Fraud Examiners (ACFE).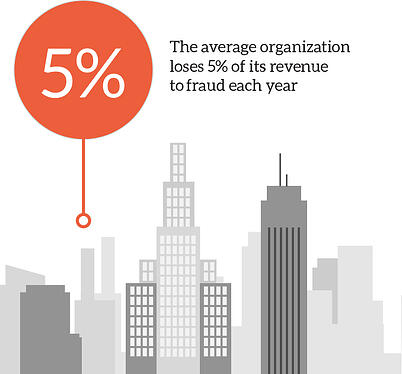 The typical fraud loss for small businesses is 28% higher than for companies with more than 100 employees, the ACFE reports. The median fraud loss for small businesses is $154,000, while companies with more than 100 employees see a median loss of $120,000.
The top industries at risk for fraud are:
Banking & Financial Services
Government & Public Administration
Manufacturing
Healthcare
Education
Early Detection is Key
But don't lose heart just yet. You can reduce your financial risk by proactively monitoring for fraud. The sooner you detect an instance of fraud, the less it will cost your company.
If a scheme lasts less than 7 months, it will only cost an average of $50,000, according to the ACFE. That's a lot of money for most companies, but it's small in comparison to what happens when fraud goes unnoticed. Schemes that last more than 61 months cost an average of $985,000!

Detecting Suspicious Activity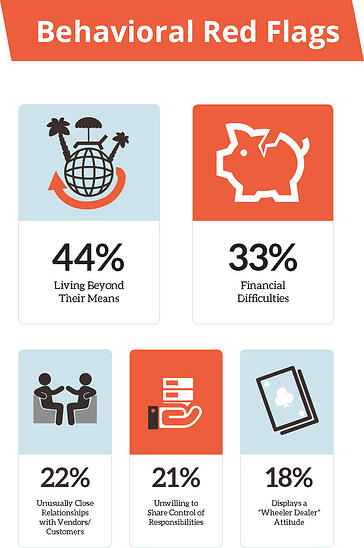 It's not easy to pick a fraud suspect out of a crowd. The average fraud perpetrator doesn't have any previous fraud charges or convictions, according to the ACFE.
But there are behavioral red flags that you should be on the lookout for. In a recent study, the ACFE found that 92% of employees committing fraud showed one of these behaviors before the fraud was detected:
Living beyond means
Financial difficulties
Unusually close association with vendors or customers
Control issues or unwillingness to share duties
A "wheeler dealer" attitude
Divorce or family problems
Irritability, suspiciousness or defensiveness
Addiction problems
"Fraudsters exhibit behavioral warning signs of their misdeeds," said ACFE President James D. Ratley, CFE. "It's important to remember that this human element of fraud — demonstrated in red flags such as living beyond one's means or exhibiting control issues — is not identified through an audit or other traditional controls."
Tamper-Evident Technology
Even though looking for behavioral cues can be helpful, it's not easy to detect every instance of fraud on your own. That's where tamper-evident technology can make your life a lot easier.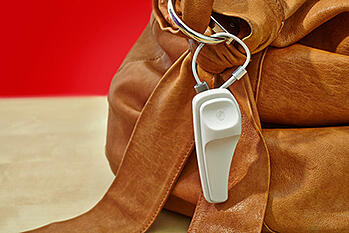 You might not know it, but you interact with tamper-evident technologies all the time. Have you ever pulled a shirt out of your shopping bag only to find that it still has the security sensor on it? You might've been tempted to grab a pair of pliers and pull it off—but you probably didn't. The sensor is filled with ink, and if you pull it open, you won't be able to wear that shirt without everyone knowing you tampered with that sensor.
Tamper-evident digital signatures work the same way. If someone tampers with a digitally signed document, the tamper evidence feature will alert you that something's wrong.
When you see the alert, you can dig deeper to find out exactly what was changed. It might be something minor like a change in capitalization. Or it might be something as major as changing the contents of a document, like in the Wells Fargo case we mentioned earlier.
Tamper Evidence: How it Works
When a signer first signs a document in SIGNiX's system, our technology takes a snapshot of what the document looks like. It then keeps on taking snapshots every time someone signs or initials the document after that. Throughout the entire process, it takes notes on everything that happens to the document.
When you open the finished document in any dedicated PDF reader, the application can see all of those snapshots. It automatically compares the document you're looking at to not only the last approved snapshot it has on file, it compares it to all of the snapshots in the PDF. If everything is the same, you'll see a green checkmark icon at the top of the screen.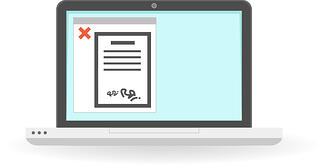 If something has been changed, you'll see a yellow exclamation point or a red x. From there, you can access the notes our system took to find out what was changed, when it was changed and who changed it. You can even go back and look at the individual snapshots to see what a document looked like at every point in the signature process.
Best Practices for Tamper Evidence
If you're using a tamper-evident digital signature solution, here are some tips to make sure you're able to detect document fraud.
Always look for the green checkmark on signed documents.
This can be easily done by opening your signed document in many free PDF viewers such as Adobe Reader, Fox-It, or Nitro Reader. Check your documents for tampering before you send them out of your system. This is especially important if you're about to submit a document to a regulatory body. It's always better to detect and address fraud internally to avoid hefty fines and bad publicity.
Educate your employees on tamper evidence.
Tamper-evident technology can deter employees from committing fraud in the first place. Show them how it works, and let them know the consequences they could face if they try to alter a document. And don't forget to educate receiving parties as well, so they know what to look for.
Make sure documents are tamper-evident at every signature step.
Some vendors only provide a tamper-evident seal at the end of the transaction. This puts you at risk because you cannot necessarily prove how the document changed during the signing process. Make sure your digital signature vendor seals your documents against tampering at every signature and initial to get complete protection.
While it's impossible to completely prevent fraud, tamper-evident digital signature technology can help you detect fraud early. This will help you minimize financial losses, harm to your reputation and regulatory fines.