When I hear about data breaches, it's easy to imagine a hacker sitting in a dark room with a pile of Red Bull cans and a keyboard. It's easy to be ambivalent to that type of threat. Of course you're afraid of being hacked, but you're doing what you can to protect your company.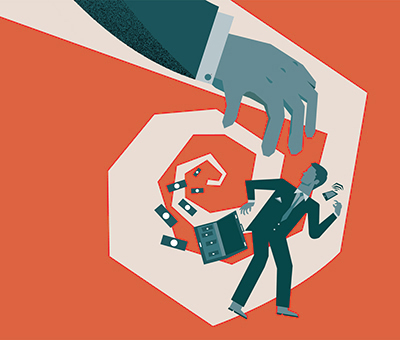 But have you considered the threats you face from the people who work in the offices next to yours? A recent study found that insider threats make up about 23% of all cybercrime incidents. In fact, companies around the world lose $2.9 trillion to employee fraud each year, with $40 billion of just in the United States.
The True Cost of Fraud
The actual theft of money is only a small piece of the cost of fraud. Other costs include:
Costly Court Battles—The median contract dispute case costs $91,000.

Public Opinion—Fraud can ruin business deals and tarnish your reputation.

Regulatory Penalties—Regulatory bodies in various industries impose steep fines for fraud. In fact, earlier this year, the SEC fined Wells Fargo $5 million in a document tampering case.
The news is even worse for small business owners. Businesses with less than 100 employees suffered more costly fraud attempts than their larger counterparts. The average fraud scheme at a small business costs $154,00, compared to $100,000 for businesses with more than 1,000 employees.

Use the code below to embed this infographic on your site or blog
Behavioral Red Flags
While there's no surefire way to prevent fraud, there are some behavioral red flags to look out for. At least one of these "red flag" behaviors was seen before the scheme was discovered in 92% of fraud cases:
Living beyond their means
Financial difficulties
Unusually close relationships with vendors or clients
Unwillingness to share control of responsibilities
Displays a "wheeler dealer" attitude
"This is why the staff at any organization should be trained to recognize these and other common behavioral signs that a fraud might be occurring," said ACFE President James D. Ratley, CFE. "Moreover, they should be encouraged not to ignore such red flags, even when discovered by accident, as they might be the key to detecting or deterring a fraud."
Detect Fraud Early
You might be tempted to ignore this information. The subject of fraud can be overwhelming, and it would be easy to go on living your life just like always. But that would be even more risky than doing nothing!
Research shows that the longer a scheme goes undetected, the more expensive it will be. When schemes last less than 7 months, they cost an average of $50,000. That number skyrockets to $985,000 for schemes that last more than 61 months.
Tamper Protection: How it Works
Tamper-evident technology is one way to protect your company from fraud. This technology uses advanced cryptography to alert you if one of your documents has been tampered with. Here's how it works:
The digital signature service takes a snapshot of your document when you upload it into their system.
The software keeps taking snapshots through the entire process.
Open the completed document in any PDF reader to find out if it's been tampered with.
The PDF reader automatically tests authenticity by comparing the document you're looking at to the last approved snapshot.
If everything is the same, you'll see a green checkmark icon at the top of the screen. That's your signal that the document is tamper-free.
If something has been changed, you'll see a red X or a yellow exclamation point.
While it's impossible to prevent fraud 100% of the time, using tamper-evident digital signature technology can help you detect fraud early. This will help you reduce your financial risk and can protect you from regulatory fines.