SIGNiX is pleased to announce that we will be attending Pershing LLC's INSITE 2016 conference as a silver sponsor. The conference is in Orlando on June 7-9.
"We look forward to this conference every year, and we're happy to sponsor INSITE 2016," said Jay Jumper, CEO at SIGNiX. "As an INSITE 2016 supporter, we are able to assist in providing industry and technology insight."
SIGNiX's digital signature solution improves efficiency and lowers costs without sacrificing security. With SIGNiX, clients can review and sign documents online at their own pace no matter where they are. SIGNiX is the preferred e-signature for wealth management space because their technology offers specific benefits not available from other e-signature vendors.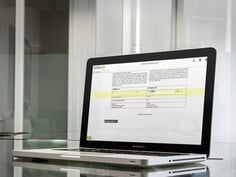 "We know that investment professionals want to manage their own documents without being locked in to an e-signature vendor. That's why we offer Vendor Freedom™ with our e-signatures, which are based on international standards and are permanently embedded into the signed PDF documents, eliminating the need to check back with a vendor to validate a signature," Jumper said.
SIGNiX will exhibit our industry-leading technology at booth 611 at Hyatt Regency Orlando from June 7-9.
To learn more about the benefits of e-signatures for financial advisors and broker-dealers, download this free eBook.