Top digital signature vendor for real estate agents to exhibit at REALTOR® Party Convention & Trade Expo in Washington, DC.
CHATTANOOGA, Tenn.—May 8, 2014—SIGNiX, the leading provider of secure digital signatures, today announced that it will exhibit at the REALTOR® Party Convention and Trade Expo 2014 from May 12-17. SIGNiX will showcase its digital signature technology that powers zipLogix Digital Ink, the most widely used e-signature software in the real estate industry.
When: May 14 and 15 10 a.m. to 6 p.m.
Where: Marriott Wardman Park Hotel, Washington, DC
Booth: 720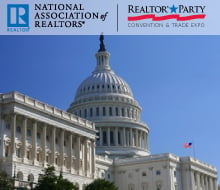 In the real estate industry, SIGNiX has partnered with leading electronic forms provider zipLogix to create zipLogix Digital Ink—a product that combines SIGNiX's digital signature technology with the forms capabilities of zipLogix. Through this partnership, SIGNiX and zipLogix offer unique benefits including:
A fast and easy way to close deals online
Superior risk mitigation with the most legal evidence possible
Tamper-evident seals for each signature and initial to show if a document has been altered in any way
Digital signatures that can't be separated from the document and can permanently prove the document has not been altered
A highly secure platform incorporating military-grade encryption and patented protection of signers' identities
"For real estate agents, if someone accuses you of digital fraud you could be in for an expensive legal battle—unless you have the right evidence to keep you out of court," said John Harris, director of product management at SIGNiX. "Several real estate agents have been able to stay out of court by simply showing clients the legal evidence recorded with zipLogix Digital Ink."
zipLogix Digital Ink ensures that all of the document's data and signatures are protected throughout the signing process. The technology permanently protects the document's content and the signers' identities. Once the document has been signed, any attempt to change the terms of the agreement automatically makes the document invalid.
zipLogix Digital Ink is already available to more than 300,000 real estate professionals nationwide. In many states and areas, the technology is offered for free as a member benefit for multiple listing services and realty associations. Contact zipLogix to find out more information about whether you could be using Digital Ink alongside zipForms at no charge.
About SIGNiX 

SIGNiX, the most trusted name in digital signatures, makes signing documents online safe and secure. SIGNiX offers the only independently verifiable cloud-based digital signature solution, which combines convenience with best-in-class security. SIGNiX's products help the world's leading companies become more efficient, decrease risk and boost profits. For more information, visit www.signix.com.
About zipLogix

The zipLogix family of tech-savvy products are the recognized industry standard for electronic real estate forms and transaction management systems. zipForm® is the Exclusive and Official forms software of the National Association of REALTORS®. zipLogix also offers relay®, the web-based transaction management system. zipLogix provides transaction solutions to real estate professionals that enhance the value of services they deliver to their clients while improving productivity and efficiency. zipLogix, a subsidiary of Real Estate Business Services, Inc. (REBS), is a joint venture between REBS and the National Association of REALTORS®. zipLogix is also a proud Partner in NAR's REALTOR Benefits® Program.