Here at SIGNiX, document security is our number one concern. PDFs offer a high level of document integrity, and that's why our system exclusively uses PDFs instead of Microsoft Word documents.
But if you want to work with documents in Microsoft Word, don't worry! Here are two easy ways to convert your Word documents to PDFs.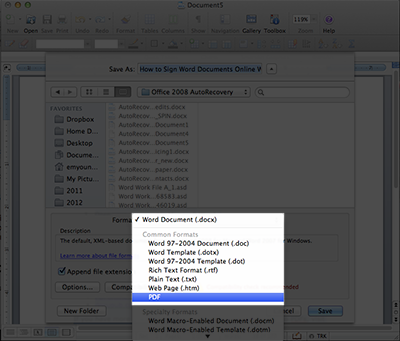 Option 1: "Save As" Function in Word
Open your document in Microsoft Word
On the "File" menu, click on "Save As"
In the "Format" drop-down menu, select the "PDF" option
Click "Save"
Option 2: Online Converters
There are a lot of free online services to convert Word documents to PDFs. Here's a list of some of the most popular options.*
After you've converted your Word document into a PDF, you can upload it into MyDoX. To learn more about how to create a transaction with MyDoX, check out our one-minute video about the process.
If you have more questions about converting Word documents to PDFs, visit Microsoft's help page on the topic.
*Note: This list of websites is for reference only. We do not support or endorse them.