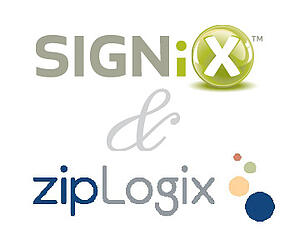 It always makes us proud when our digital signature partners are pleased with the SIGNiX product they are offering their customers. zipLogix, the leading provider of electronic forms for the real estate industry, released some information last month about their product, Digital Ink (R), powered by SIGNiX. They're talking about our new wizard!
Our new wizard-style user interface has been rolling out with different partners to help speed up their customers' workflow. The team at zipLogix really understands the benefits. "The new wizard-style interface guides users through a step-by-step process to send documents for signatures. In addition, document editing has been simplified for agents and brokers to allow for faster navigation. The enhanced workflow allows the transaction to be executed without signer delay, as signers can be grouped together."
We don't think that they could have stated it better!
Walter McDonald, Chairman of the Board for zipLogix, says, "We are pleased with the evolution and the industry response to the zipLogix Digital Ink service. It is a testament to the hard work of our team and partners to deliver such a powerful and user-friendly service to our national user base."
Thank you, Mr. McDonald, for your trust in us and we promise to continue giving our best to support you and your customer base with easy-to-use technology.