Leading digital signature company offers product updates to make signing documents online faster and easier.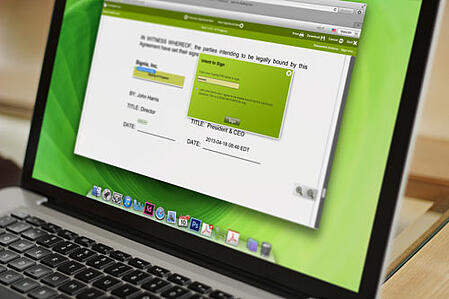 SIGNiX, the leading provider of cloud-based digital signatures, today released its Spring 2013 update, making it even easier for businesses to sign documents online. The improvements include a feature where customers can draw their signature on an iPad or other tablet computer using their finger or a stylus.
SIGNiX's digital signature products help companies across the country get documents signed online instantly, from real estate transactions to loan applications. Businesses implementing SIGNiX e-signatures substantially improve efficiency and lower costs while offering better security to their customers.
"We've supported mobile devices for some time, but this addition makes the experience a lot more natural for the signer," said John Harris, director of product management for SIGNiX. "We have always been dedicated to providing an intuitive user experience alongside a more secure, portable electronic signature than the competition offers. This release further delivers on that goal."
SIGNiX's Spring 2013 product update also includes:
A sleeker and more intuitive signing interface that takes advantage of wide screens
Easy access to print, download, zoom and other functions
An updated set of signature fonts to better match the signer's style
Clearly defined document actions and overall task progress
Updated dialogs and text to better guide signers
New "agree and acknowledge" controls
Easier document preparation, including quick drag-and-drop signatures, larger default field sizes, and one-click 'add date' tools
"Our customers want fast turnaround times, and our updated interface will make it easier than ever to get documents signed," said Jay Jumper, president and CEO of SIGNiX. "With every update we're using feedback from our customers to make our products even better."
About SIGNiX
SIGNiX, headquartered in Chattanooga, Tenn., makes signing documents online safe and secure. SIGNiX offers the only independently verifiable cloud-based digital signature solution, which combines convenience with top-level security. SIGNiX's products help the world's leading companies become more efficient, decrease risk and boost profits.