SIGNiX's Spring 2014 release introduces MassMailerTM, allowing clients to send documents to a large number of recipients in minutes.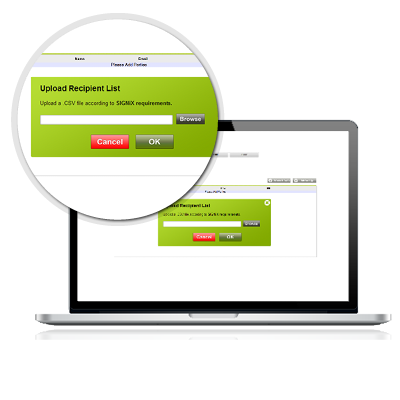 CHATTANOOGA, Tenn.—May 1, 2014—SIGNiX, the leading provider of secure digital signature services, today released its Spring 2014 product update, which will make it even easier for businesses to sign documents online. The improvements include a new MassMailer service along with other enhancements to its Signature EngineTM.
"Our clients' HR and compliance departments have been asking us for a no-nonsense way to get hundreds to thousands of documents out for signature in a few simple clicks," said John Harris, director of product management at SIGNiX. "Our MassMailer service delivers on that. Added to that, our enhanced compliance features will give clients peace of mind knowing their documents and regulated processes are in good hands."
SIGNiX's digital signature products allow companies of all shapes and sizes to get documents signed online. Businesses who use SIGNiX become more efficient, lower costs and enjoy superior document security.
"The return on investment for MassMailer is just incredible," said Pem Guerry, executive vice president of SIGNiX. "In some cases, clients see a complete return on investment the very first day of use."
SIGNiX's Spring 2014 product update includes:
MassMailer—With this new service, SIGNiX clients can easily send documents to a large number of recipients at one time directly from the Document Wizard.

Radio Buttons—SIGNiX now recognizes and supports the use of radio buttons in the displayed PDF to signers.

Grouped Signatures—SIGNiX now supports the ability for submitters to group signatures (or initials) in such a way that signing one field will lock out other signature fields, much like a radio button.

Expanded Date Options—SIGNiX clients can now choose the format of the date and time as well as the time zone to be displayed in a date field.
About SIGNiX
SIGNiX, the Global Digital Signature AuthorityTM, makes signing documents online safe and secure. SIGNiX offers the only independently verifiable cloud-based digital signature solution, which combines convenience with best-in-class security. SIGNiX's products help the world's leading companies become more efficient, decrease risk and boost profits. For more information, visit www.signix.com.