Today we announced a dramatic change to how users interact with our service when preparing documents and transactions for delivery and digital signature. We listened to our customers' requests, and we went back to the drawing board to make our digital signature service more accessible and intuitive than ever before.
We want users to focus on getting their work done, not navigating an interface. With four elegantly simple steps our customers can quickly turn their documents around and get deals closed without having to contend with a cluttered interface that presents unnecessary and seldom used options.
John Harris, Director of Product Management at SIGNiX
Among the improvements we've made:
Tablet interface and experience improved: Scroll documents via touch on Apple® iPad® and other devices. View and edit full page documents in portrait mode. Pinch-zoom on fields to make them larger or smaller (on iOS).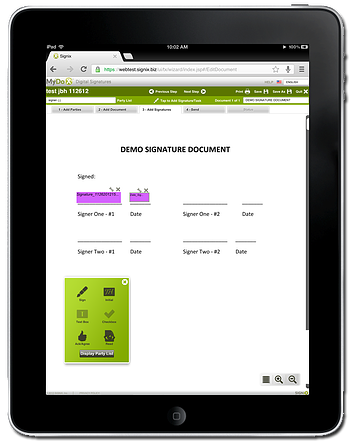 Three times more space devoted to document preview, meaning that users can easily drag-and-drop signatures and other fields onto a document*

Easily recognizable icons to quickly identify actions and speed up preparation

Floating tool palettes make it easy either to get to critical tools or simply move them out of the way

Interface takes advantage of wider format, higher resolution displays, eliminating the vertical 'letterboxing' that commonly occurs

Add date fields or signature blocks with the touch of a button.

Better efficiency of vertical space on the screen
In our first episode of 'Inside SIGNiX' below, John Harris helps to explain some of the changes to our service and why we made the changes.
In addition to the video above, we've also updated our support / how-to videos to show how the new changes affect daily workflows, and added a new screen-by-screen walkthrough document (PDF) that highlights the tools on each screen.
To see the new user experience first-hand, be sure to click on the button below to schedule a live demonstration!