SIGNiX Widens Electronic Signature Leadership with Significant New Product Release
Enhanced version delivers striking user experience improvements to make sending documents for digital signatures quicker and easier, without compromising on security.
CHATTANOOGA, TN • December 11, 2012 – SIGNiX, the leading provider of cloud-based digital signature technology, today introduced a dramatically updated user experience designed for users to send documents for signatures across the web quicker than ever before, delivering on the promise of the paperless office.
With this new release, SIGNiX brings its online electronic signature service even closer to the wet ink process that users are comfortable with—print, place in envelope, address and stamp—while maintaining the security advantages of its digital signature foundation. SIGNiX is unique among electronic signature providers in that it uses standards-based digital signature technology to apply each and every signature and initial on a document, making signed documents tamper-evident and producing a detailed audit and evidence history.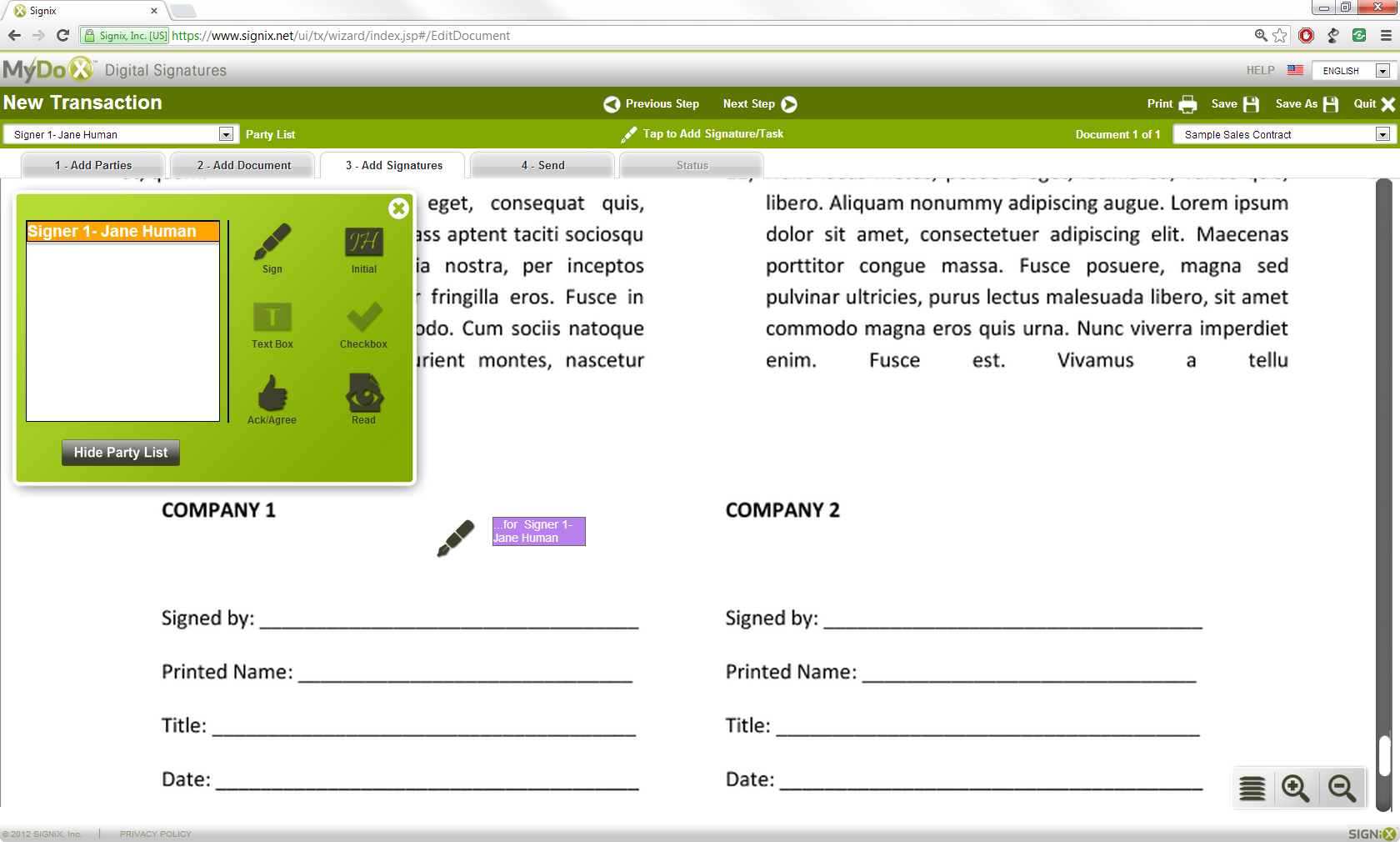 "We want users to focus on getting their work done, not navigating an interface," said John Harris, Director of Product Management at SIGNiX. "With four elegantly simple steps—Add Parties, Add Documents, Add Signatures and Send—our customers can quickly turn their documents around and get deals closed without having to contend with a cluttered interface that presents unnecessary and seldom used options."
Improvements include:
Tablet interface and experience improved: Scroll documents via touch on iOS and other devices. View and edit full page documents in portrait mode. Pinch-zoom on fields in iOS to make them larger or smaller.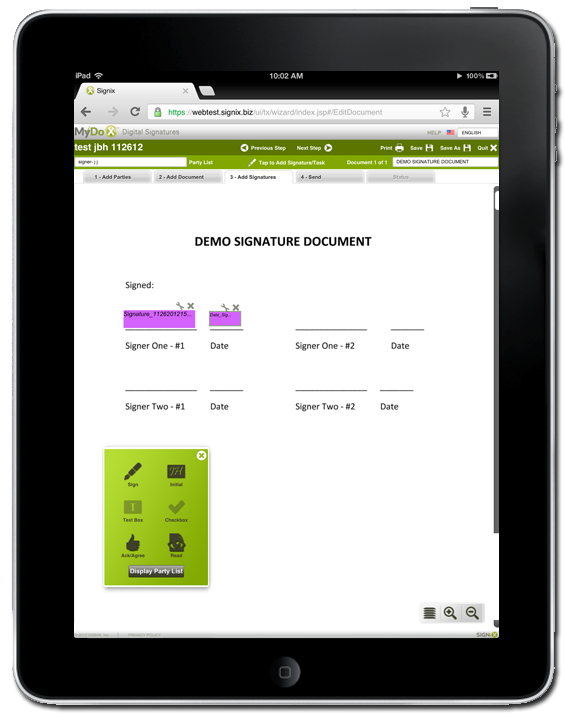 Three times more space devoted to document preview, meaning that users can easily drag-and-drop signatures and other fields onto a document*
Easily recognizable icons to quickly identify actions and speed up preparation
Floating tool palettes make it easy either to get to critical tools or simply move them out of the way
Interface takes advantage of wider format, higher resolution displays, eliminating the vertical 'letterboxing' that commonly occurs
Add date fields or signature blocks with the touch of a button.
Better efficiency of vertical space on the screen
"We're so excited to make this new release available to our customers. We've always been focused on combining the superior security of traditional digital signatures with the ease of use of a simple online electronic signature service. This new release further delivers on that promise. 2013 will be a great year!" said Jay Jumper, President and CEO of SIGNiX, Inc.
Videos of the new release in action are available on SIGNiX's YouTube Channel at https://www.youtube.com/user/digitallysigned.
*Comparison between document rendering on previous (v122) and new (v123) versions on a 1680x1050 resolution display.
About SIGNiX
SIGNiX, headquartered in Chattanooga, TN, offers a patented, standards-based digital signature service that allows users to send and sign documents online easily without compromising on security. SIGNiX enables customers to move to truly paperless processes with a solution that is secure, auditable and compliant with the ESIGN Act, UETA and other relevant U.S. and international electronic signature laws and regulations. Users can be immediately authenticated online so that documents requiring a signature can be legally executed electronically without the costs, risks, delays or resources of paper processing. This helps increase the speed, accuracy and security of document execution relative to traditional paper and ink-based signatures without the requirement for hardware or software installation. For more information, visit http://www.signix.com, email sales(at)signix(dot)com, follow SIGNiX on Twitter @signixsolutions, call 877-890-5350 ext. 1048 or visit SIGNiX at http://www.facebook.com/SignixDigitalSignatures.
SIGNiX User Experience 2.0 Screenshots