Electronic signature vendor updates its cloud service to make it faster and easier to get documents signed online.
October 1, 2013—CHATTANOOGA, Tenn.—SIGNiX has announced the fall release of its industry-leading digital signature software, which features signer delegation, push notifications and highly sophisticated integration options, among many other updates. The nation's top companies are using SIGNiX's e-signature software to increase customer satisfaction and deliver measurable ROI improvements over traditional paper–based workflows.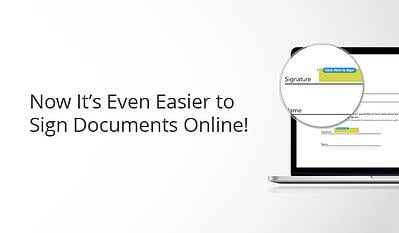 "The new release includes valuable new features that our customers have requested," said John Harris, director of product management at SIGNiX. "But we didn't stop there. We're now giving our customers even more access to our Signature Engine™ so they can more easily build our robust signature capabilities into their own websites and services."
Over the past ten years, SIGNiX has developed online digital signature products that combine a great user experience with regulatory compliance and in-depth legal evidence.
SIGNiX's continued focus on security and innovation, along with new partnerships and integrations, has driven the company's rapid growth over the last 24 months.
The latest SIGNiX release is now available for all SIGNiX customers, and it includes:
Easy Signer Delegation—Signers can delegate documents to a different signer if they receive a document that should be signed by someone else.
Seamless Signatures™—SIGNiX can provide customers with unprecedented access to the SIGNiX Signature Engine to customize and integrate the signature process into their own services, while still relying on the SIGNiX cloud to deliver intuitive signing experiences to clients.
Push Notifications—SIGNiX now supports push notification events through its web services API to proactively notify integrated clients that a transaction is complete. This speeds up response time and eliminates the need for server-to-server overhead.
Signature Preview—Clients can now preview a sample signature before sending the document to signers. The signature or initial fields can be toggled to display the signatures as they will appear once signed.
Automatic Date Fields—Date fields are now automatically added alongside signature fields when dragged-and-dropped onto a document using the document wizard.
PDF Delivery Format Update—Recipients on the CC List will now receive completed documents as individual PDF files, optimized for mobile delivery.
Faster Document Creation—SIGNiX has eliminated redundant steps in the document creation process to accelerate the delivery of documents for signature.
Enhanced Tamper Evidence—SIGNiX can now offer bulk, invisible tamper-evident seals on any PDF document through its web services API. Companies can use this to prevent tampering on any document at any time.
More information about the SIGNiX Fall 2013 product update can be found by visiting http://www.signix.com/fall-2013-product-update/.
About SIGNiX
SIGNiX, the Global Digital Signature AuthorityTM, makes signing documents online safe and secure. SIGNiX offers the only independently verifiable cloud-based digital signature solution, which combines convenience with best-in-class security. SIGNiX's products help the world's leading companies become more efficient, decrease risk and boost profits. For more information, visit www.signix.com or follow SIGNiX on Twitter, Facebook and LinkedIn.