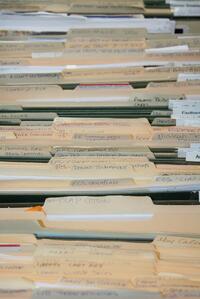 In our last blog post, Digital Signatures and the Paperless Office, we began a conversation about the TechLeaders 2012 article, Achieving the Paperless Office: Why Go Paperless? We touched on the ESIGN Act of 2000 signed by President Bill Clinton and how this was the last "legal hurdle" for digital signatures to help us achieve the paperless office.
Now let's talk about the thing all of our bosses love, saving the company money.
A couple of numbers that made our jaw drop from the article were the $25,000 it takes to fill a filing cabinet and the $2,100 it takes per year to maintain it. Can you believe it? That's a lot of work hours, paper and energy spent on a metal structure with drawers.
Take a look at this part of the article we drew out:
"Estimating Your Revenue Enhancement: You can quickly estimate what this is worth to your company by dividing your total revenue by the number of people in your firm to get your average revenue per employee. Then multiply that number times 10% to get the amount of revenue you'll generate for each person who fills out forms in your company."
That seems practical enough... why don't you try it?! Let us know what you would save in the comment section below!
If you missed our last blog posts, you can check them out here: