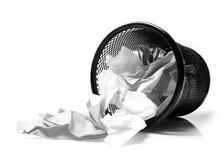 Our friends putting on the TechLeader 2012 event posted a few articles we thought you would find interesting. We couldn't help re-posting some of their content about a paperless office, workflow automation, efficient sales processes and how digital signatures work their way into all of these things. Our first stop is on a post about "Achieving the Paperless Office."
(You can find the article HERE)
The paperless office is an idea we at SIGNiX can get behind, but understand the difficulties offices face in making the move. A paperless office means relying less on paper contracts, printed out emails, files, etc. A truly paperless society most likely won't exist (we're hypothesizing here!) but one can hope! To achieve it, it means we have to actively make an effort to be different.
We'll discuss some of the challenges and opportunities in achieving a paperless office listed in the article in our next blog post. We're excited to share such interesting articles, thanks TechLeader and the original author of the content, Richard Walker, the CEO of Efficient Technology!
Stay tuned!