Here at SIGNiX, prospective clients often ask us, "What kind of value could my company get from implementing SIGNiX?" We could tell you, but we'd rather show you. There's no better way to answer the question than with real examples from our customers.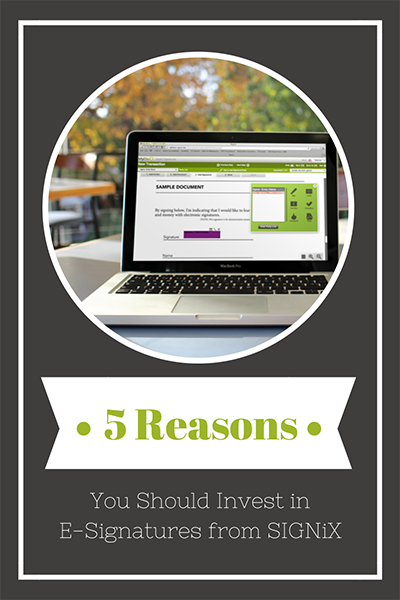 Our customers usually find value in five different ways: fixed cost savings, more efficient workflows, increased revenue, enhanced customer experience and risk mitigation.
Fixed Cost Savings
SIGNiX customers save billions of dollars a year by swapping paper-based processes for digital. With SIGNiX, our customers have significantly reduced and even eliminated printing, storage and distribution of hard copies by leveraging our digital signatures enterprise-wide.
One of our clients in the financial services industry expects to save $18,000 per year implementing our technology. If you're curious what fixed costs you could save on, download our free ROI calculator.
More Efficient Workflows
With SIGNiX you can say goodbye to the extra time, hassle and expense of printing, scanning, faxing or overnighting documents. SIGNiX gives employees more time to spend serving customers by freeing up time previously spent manually processing paperwork. Whereas it used to take months for documents to be signed, use of SIGNiX has enabled the University of Houston to sign documents in just minutes.
Increased Revenue
Our clients report that sales teams are able to increase conversion rates, close more deals faster and improve retention rates by using SIGNiX digital signatures.
After using SIGNiX for more than a year, employees at First Class American Credit Union can't imagine going back to a paper-based system.
"SIGNiX has been one of the best additions to our credit union. We couldn't be happier and are more than excited about our future with SIGNiX and the opportunity to help other credit unions see the advantages it offers," said Bryce Farmer, financial services manager at First Class American Credit Union.
Success from using SIGNiX is evidenced by staggering adoption rates shared by customers like the County of San Diego, which has seen an adoption rate 20 times as much as anticipated and receives additional requests for SIGNiX from employees every day.
Enhance Customer Services
With SIGNiX, our clients, their customers and their partners use SIGNiX to conduct business on mobile devices while they're out of the office. This can give them a significant advantage over competitors that can only do business at their desks.
After deploying SIGNiX, customers have reported a dramatically improved customer experience. According to CommunityLeader, digitally signing has enhanced the experience of its portal operators, as well as their clients.
Mitigate Risk
Our customers, especially those in the financial services industry, often point to the tremendous value SIGNiX provides for meeting compliance and regulatory requirements. For example, SIGNiX has helped Raymond James Insurance Group mitigate risk by providing the highest level of legal evidence and assurance.
While these are some of the most frequently cited ways customers realize substantial value by keeping their business digital with SIGNiX, every customer has a unique story, and we want to hear yours! Share in the comments section below or Tweet us @signixsolutions.