When it comes to any signature, being able to prove a signer's identity is crucial. With handwritten signatures, this process is established and pretty straight-forward. A handwriting expert compares the signature to a signature that's already trusted, and if they match up, the signature is considered valid.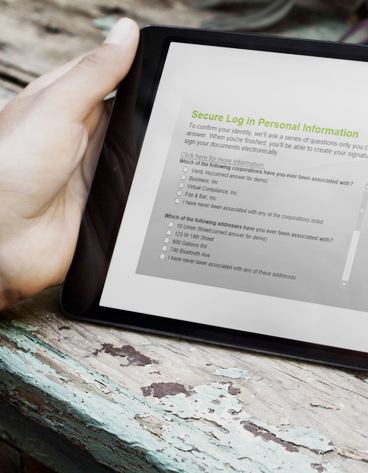 The good news is that this process is a lot faster and more efficient when you decide to use e-signatures. Most reputable e-signature vendors offer a variety of ways to prove signers' identities—a process called signer identity authentication.
The Most Secure Identity Authentication
If you are dealing with high value transactions that come with a good deal of risk, there's a good chance you should use the most secure type of authentication—Knowledge-Based Authentication (KBA).
KBA uses information and relevant facts located within dozens of public record databases over the past 30 years to prove the identity of your signers. These questions are broader than typical credit-based question sets. The questions are picked at random based on all available data.
Questions are generated from information pulled from sources (not all are displayed) which may include:
Driver's License
Business Associations
Aircraft Association
Individual Domain Name Association
Owned Property
People Association
SSN Association
Vehicle Registration
Watercraft Registration
Here's an example: You registered your dog for a rabies tag in 1985. A question may be "What was the color of your dog Spot in 1985?" That information was obtained from the rabies data submitted by your veterinarian to the local government.
Here at SIGNiX, we work with industry-leading external identity authentication vendors to offer KBA. Neither SIGNiX nor our clients have access to the questions being asked or the responses.
Advantages of KBA
If your wallet is stolen, identity thieves could get access to your date of birth or social security number. But they won't have access to your memories (like the name of your high school mascot). Because KBA uses four or five of these so-called "out of wallet" questions, this provides a significant barrier against identity theft.
Here are some of the advantages of KBA:
Questions are generated through multiple databases using all public records, and the questions are not credit-based. This is important because it's against the law in certain states to use credit data for identity purposes.
Questions are generated using information gathered over the course of 30 years.
This process makes it more difficult for a person's spouse to sign on their partner's behalf.
The set of questions must be answered within 5 minutes, which limits the risk of a fraudster researching answers.
Drawbacks of KBA
However this layer of security comes with a few drawbacks. Because questions are generated from such a broad range of public records and information sources, some people might find it hard to remember the answers. The questions can also be upsetting because they can be based on personal history or past relationships.
We've worked with our vendors to take measures to limit the frequency of these types of questions—however, we cannot guarantee they will not ever be generated because we don't participate directly in the generation of the questions.
In the event that someone fails to answer the questions, they will be told to contact the company that sent the document to be signed. This is a security measure set in place to combat fraudulent access to an identity.
The best option in such an instance is for the individual to try signing again, and it is likely that the person will be able to answer the next set of generated questions.
This can be frustrating for signers, but our clients with high value transactions often think the advantages outweigh this concern. You should consult with your legal team to decide if KBA is right for your company.