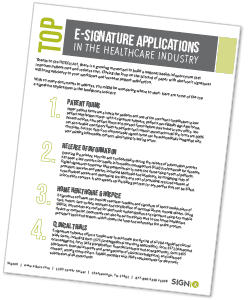 It's no secret that our lives are becoming more and more digital, and the healthcare industry is no exception. Today, patients expect to be able to interact with their healthcare provider online any time they want. That's why it's the perfect time for the healthcare industry to adopt e-signature software. With this technology, healthcare providers can get documents and consent forms signed online from any computer with an Internet connection.
And doctors aren't the only ones using e-signature technology. In fact, there are many different e-signature applications in the healthcare industry that make a lot of sense. With so many documents to process, you might wonder where to start. That's why we've created a free white paper called "Top E-Signature Applications in the Healthcare Industry."
When you download this white paper, you'll learn about the different areas of the healthcare industry that stand to gain the most from adopting e-signature software. You'll also learn about compliance issues when it comes to e-signatures, including regulations from HIPAA, the FDA and AHIMA. Click here to download the white paper, or hop on one of our weekly webinars to learn more about e-signature technology.