There are plenty of reasons to support the overwhelming approval of using digital signatures to transact. One being that the global market for digital signatures, currently valued at $512.5 million by one source, is expected to grow to $2.02 billion by 2020, according to a recent report from MarketsandMarkets.
Even with projected growth and research to support the validity of digital signatures, the physical pen-and-ink signature carries on. Josephine Wolff asks the question, "Why do we still have to print out forms, sign them, and scan them back in?" in The Peculiar Endurance of the Physical Signature.
SIGNiX customers know first-hand about the benefits of switching to digital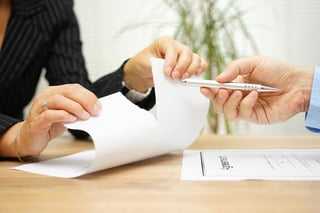 signatures, but there are still many business owners who can't quite envision exactly what, and how much, they would gain from making the switch.
Believing these three lies is dangerous and inconvenient for those who still trust in the physical signature:
1. Encrypting data in a document doesn't matter.
A physical signature doesn't require encryption, which means that you can simply sign on the dotted line. While that sounds easy in theory, the process isn't always convenient, and it isn't as secure as most people would like to believe. Digital signatures are made secure by encrypting data. Wolff says, "A digital signature involves encrypting data in a way that could have been done only by you…That signature is specific to the message it accompanies and cannot be easily copied, or attached, to another message." (Of course the technology to actually encrypt a digital signature falls to digital signature companies so you don't have to worry about becoming a computer genius.)
Encryption is critical because it securely protects data such as e-mail, medical records, credit card information, confidential corporate information, legal documents, and basically anything else you wouldn't want someone to have access to.
2. A physical signature is meaningful.
It's hard to swallow, but the appearance of your signature doesn't matter. Does your handwritten, pen-and-ink signature look anything like the signature you quickly scribbled on a tablet with your index finger after swiping your credit card? Probably not. "In fact, the physical signature seems to be an increasingly worthless tool for authenticating people's identities as we do more and more signing with fingers, and screens, and end up bearing little resemblance to our pen-and-paper signatures," says Wolff. A digital signature's true worth is in the legal evidence that is permanently embedded into the document. A physical signature is only a squiggly ink line on a piece of paper.
3. Physical signatures and digital signatures are the same.
While a physical signature and a digital signature seem to accomplish the same purpose, the high level of security, privacy and permanence that a digital signature offers is often too easily overlooked. If that isn't convincing enough, the ROI associated with switching to digital is an offer that most people can't refuse. And another thing to point out, if you haven't noticed already, is that printing and scanning or printing and mailing a document is always a burden. Say goodbye to calling a friend to use their printer/scanner or sneaking over to the scanner at your office. Digital signatures are an obvious choice for convenience, security and accessibility.
SIGNiX's Independent E-Signature™ technology allows you to easily and securely sign online anytime, anywhere. Your documents can be securely signed and returned to the sender in minutes no matter where you are.
To learn more about the benefits of Independent E-Signatures™, download this free white paper.