As the only e-signature vendor exhibiting during the Global Site Solutions Summit, SIGNiX had the unique opportunity to collect every detail of the needs of clinical investigative sites. Global Site Solutions Summit, a conference to advance the ethical and efficient conduct of clinical research and to encourage and build strong site partnerships, was held in Amelia Island, Florida October 8-11.
SIGNiX contributed to the conference as an IMPACT Sponsor, to demonstrate our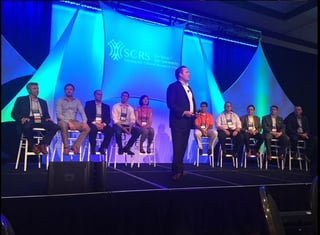 commitment to the productivity of clinical research. During our time at the conference, Business Development Executive, Hamilton Temple, had the opportunity to take the spotlight to talk about how perfectly SIGNiX's Independent E-Signature™ solution compliments life sciences.
Hamilton reported that clinical investigators confirmed how well e-signatures fit in to the life sciences industry, many of them are still drowning in stacks of paper. Hamilton said, "The first instance investigators would mention is the Form 1572 signing process." Form 1572, which states that "No investigator may participate in an investigation until he/she provides the sponsor with a completed, signed Statement of Investigator, Form FDA 1572 (21 CFR312.53 (c)),"has to be signed by anyone and everyone who is involved with a clinical trial. This process that used to take several days, possibly months, can be over in just a few hours, as long as everyone has Internet access.
Independent E-Signatures™, in particular, are the ideal fit for companies in the life sciences and clinical research space because these digital certificate-based signatures meet key industry regulations, like 21 CFR Part 11, and provide the highest level of security and data encryption.
SIGNiX has proven its e-signature success with clinical research organizations. Last year, the Independent E-signature™ provider partnered with a top clinical research organization to reduce the time required to sign clinical trial documents.
To read how SIGNiX was able to reduce physicians' signing time by 94 percent while saving approximately $250,000 in paper-related costs, download this free case study.