Even with the many security, cost and time-saving benefits e-signatures provide, signing transactions with pen and paper can be a hard habit to break. Until now.
We are excited to integrate our Independent E-Signature™ technology with Wacom, the leading provider of electronic signature pads.
This integration provides the best and most secure electronic signing experience for both in-person and remote execution of important legal documents and contracts.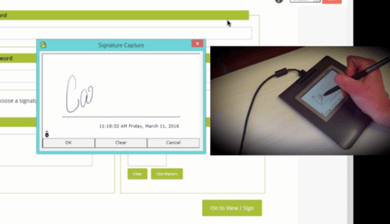 Signers use a stylus to freehand their signature onto a Wacom signature
pad that feels like real paper. SIGNiX technology ensures each signature is an
Independent E-Signature™ and is permanently and defensibly embedded
into the signed document.
It feels likes a handwritten signature. It looks like a handwritten signature. But it's better—it's digital and independent.
To learn more about how we've combined our technology with Wacom and what it means, click here to read LegalTech News' coverage and click here to read FierceContentManagement's coverage.
You can also download this free PDF of the atricle SIGNiX Partners with Wacom for 'Legally Defensible' E-Signatures.

Download this PDF to read, SIGNiX signs up to support Wacom Signature Pads.
To learn more about SIGNiX's Independent E-Signature solution, download this free white paper.