SIGNiX announced today that it has partnered with Atlas Systems, Inc. Doing business as (DBA) ComplyScore, Atlas will integrate SIGNiX's Independent E-Signature™ technology into ComplyScore's solution that automates regulatory compliance, information security and vendor governance. The integration is a headlining feature of ComplyScore's fall 2016 software release, available on September 1.
"SIGNiX's integration with ComplyScore will address the last leg of compliant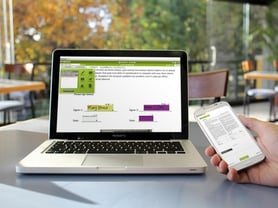 contracting—the signature—creating a smoother, more simplified experience for its customers," said Jayen Godse, CEO of ComplyScore. "Once contracts are reviewed for compliance and risk issues in the ComplyScore software, they can automatically be sent for signature without leaving the ComplyScore software—let alone having to print, mail or fax documents. Once signed, the documents are swept right back in ComplyScore."
SIGNiX's Independent E-Signatures™ adhere to international, published standards, so the e-signed documents are valid forever. And because legal evidence of the signature is permanently embedded into the signed document using public key infrastructure, there's no need to rely on SIGNiX to prove the validity of a signature. Users can verify e-signatures through any free PDF viewer, even without an Internet connection.
"Because compliance and risk mitigation are fundamental for our clients, we knew we needed a vendor with technology we could trust, and that's what SIGNiX delivered," said Godse. "SIGNiX enabled us to provide an easy and intuitive user experience both for authors and signers alike."
"At SIGNiX, we understand that every organization may have unique requirements for e-signatures, and that is why we enter partnerships fully committed to customizing our e-signature solution to fit their specific needs," said Jay Jumper, CEO of SIGNiX. "We are pleased to team up with Atlas Systems to make managing contracts through ComplyScore quicker and more convenient than ever before."
About ComplyScore
ComplyScore, a registered trademark of Atlas Systems, develops and markets a comprehensive suite of software solutions and related services to address compelling requirements for auditable enterprise GRC management processes. ComplyScore's web-based solutions integrate governance, risk and compliance management across core operational business areas, including Vendor (3P) and Information Security Management. For more information about ComplyScore, email info@complyscore.com or call +1 844 452 0101.
About Atlas Systems, Inc.:
Atlas Systems, Inc. is a leading technology innovator, offering software and service solutions to global and mid-market companies in a range of different industries, including automotive, finance, health care, publishing and telecommunications. It provides comprehensive range of solutions in the area of Technology, GRC, Provider and Oracle to customers across the globe. The company's goal is to deliver serious and competitively priced products and services to clients that add business value and have positive impact on their business. For more information, visit www.atlassystems.com.
To learn more about SIGNiX's Independent E-Signature solution, download this free whitepaper.