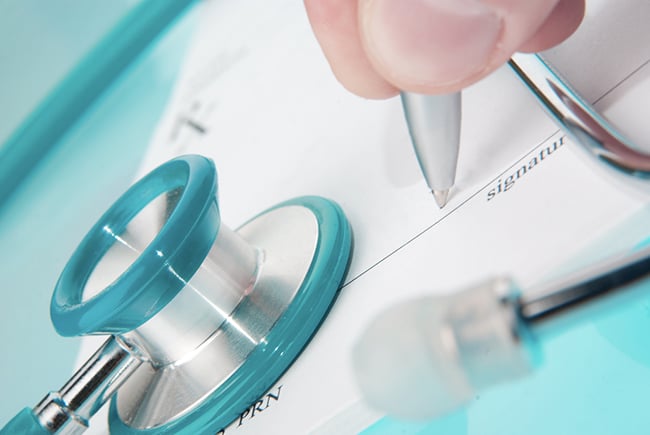 For many of us, trying to read our doctor's signature is like trying to decipher a foreign language. Why is it often illegible? Because he's written his signature so many times! Physicians have to put their signatures on everything from prescriptions to medical leave forms to medical equipment orders and more. For some, this means signing over 100 documents a day.
Of course, using e-signatures would reduce this burden, and for physician practices and hospitals that have adopted electronic health records (EHR), the transition from ink to electronic signatures is not a hard sell. Doctors would love to sign fewer documents, and the hospital has already bought into the usefulness of digital technology and a paperless workflow.
But for healthcare facilities that haven't switched from paper to electronic health records, it can be hard to see the advantage of e-signatures. There seems to be an "all-or-nothing" attitude—they either make everything electronic or continue doing everything by hand. However, this doesn't have to be the case—e-signatures can be useful to any healthcare provider, whether they've chosen to adopt EHRs or not.
For example, take the medical equipment order, ubiquitous in doctor's offices. These are drawn up for many reasons. If a patient twists an ankle and needs an ankle brace, that has to be ordered. If a patient requires home oxygen, it has to be ordered. Each of these orders requires physician approval and signature.
Whether or not a medical facility has made the switch to EHRs or other technology, e-signatures will still reduce time spent signing documents and cut paper and shipping costs. Regardless of how technologically advanced a hospital or physician practice is, adopting the e-signature will undoubtedly simplify life for physicians and patients alike.
And most importantly, particularly in the healthcare industry, independent e-signatures are completely secure. Not only are they HIPAA compliant, they allow a healthcare provider to sign a document digitally and track its progress, from her office to the medical equipment company and back. And on top of that, e-signatures are always legible.
Using e-signatures for medical orders barely scratches the surface of e-signature applications in the healthcare setting. They can be used securely to streamline a number of processes, including:
Verbal Orders
Patient Admissions
Release of Information
Home Healthcare and Hospice
Clinical Trials
Business Associate Agreements
Credentialing
Payer Enrollment
Want to learn more about how e-signatures are used in the healthcare industry? Download this free white paper.