What type of e-signature should governments use?
It's a question more complex than it might seem—and it's one that IT leaders with the County of San Diego, California's Assessor, Recorder and County Clerk's office dealt with a few years ago.
Because of California regulations and a desire for security and independence, the county wanted a digital signature that provides perpetual validity, long-term legal evidence, strong identity authentication and intuitive usability.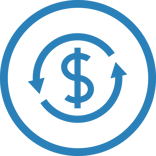 Based on that criteria, the county chose SIGNiX and our Independent E-Signatures™. Since then, the success has been astounding (with ROI achieved in just months).
County CIO Rolf Bishop wrote an article in Government Computer News that explained why SIGNiX Independent E-Signatures™ were the right choice for the County.
In his article, Rolf said, "Since we began using SIGNiX digital signatures in 2013, citizen satisfaction and operational efficiency have exceeded expectations. Consider that one of our processes—the homeowner's exemption form—was a 16-step manual process when it was paper-based. Now that it's online and signed with digital signatures, it's a simple two-step process that saves us tens of thousands of dollars annually."

Click here to read Rolf's entire article, featuring SIGNiX technology.
Download this free worksheet to calculate your own ROI.